Permanent
24 January 2022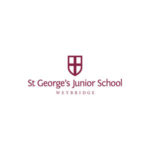 Website St George's Junior School
The SENDCo will work in partnership with the whole school to both determine the reasons that certain children might find learning, including academic, social, emotional and physical learning, more challenging than others and, subsequently, to coordinate appropriate work with the children and support their teachers to make the curriculum as accessible to them as is reasonable to do, and collaborating with the monitoring of the pupils' progress.
The SENDCo is responsible to the Academic Deputy Head for the satisfactory delivery of their duties. The SENDCo will play a key role in determining the strategic development of the Learning Support Provision in the school in order to raise the achievement of all children, and especially those with Special Educational Needs. The SENDCo needs to be a passionate advocate of broadening the teaching staff's expertise and empowering them in the process.
Full details about the role, including a job description, person specification and how to apply, can be found in the Candidate Information pack.
The closing date for applications is 9.00 am on Monday 24 January.
Contact Name: Elizabeth Drapper
Contact Email: edrapper@stgeorgesweybridge.com
Application URL: https://www.stgeorgesweybridge.com/further-information/employment-opportunities-/junior-school-teaching-staff