Farnborough Hill is delighted that A level student Paloma Vince has been awarded the prestigious Frampton Prize by the Royal Historical Society for her outstanding achievement in History.
Every year the Royal Historical Society awards a prize of £100 for the best performance in History A level examinations for each of the examining boards in the United Kingdom.
This year the top OCR student was Paloma Vince. Jeremy Hoar, Assistant Head and one of Paloma's history teachers said 'This is an amazing and well-deserved achievement and is the result of a combination of exceptional ability and hard work. The lovely thing about Paloma is her humility and generosity towards her fellow students'.
Paloma, from Camberley, who was Head Girl in her final year at Farnborough Hill, achieved 4 A* grades at A level in Economics, History, Maths and Religious Studies and is now at University College Oxford reading Politics, Philosophy and Economics. Her ambition is to become an MP. We have no doubt that Paloma will achieve her ambition and go on to great things!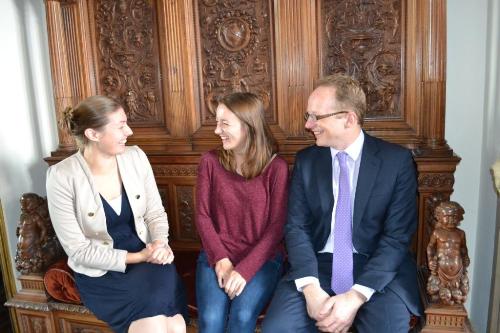 Katherine Price (Head of History), Paloma Vince and Jeremy Hoar (Assistant Head)