Mayfield riders will make up 50% of the team representing the South East of England at BE100 level at the Junior Regional Championships which will take place at Weston Park, Shropshire on 8-11 October.
Team places are hotly contested with riders having to come first or second at one of only three regional qualifiers per year to secure their spot.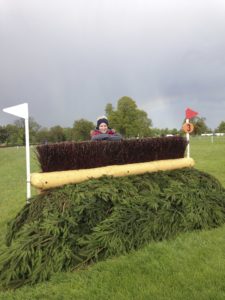 Immie Long (16) and her horse Alfie are the most experienced of the three Mayfield partnerships, having competed twice at Badminton Grassroots Championships as well as representing the South East at the Junior Regional Championships last year. Immie and Alfie qualified this year when they won their section of the BE100 qualifier at the South of England Showground.
Mady (14) and her horse Kate, have had a very successful season in 2015, not only winning their qualifier at Chilham, but also winning an open BE 100 section, competing against adults.
Molly, the youngest member of the team aged only 13, received the call up last week to represent the South East at the Championships with her horse, Lady. Molly and Lady came third in the open section of the Pony Club Championships this year, which is a huge achievement, especially considering Molly's young age.
All three girls attend Mayfield School in East Sussex and train regularly at the school's impressive equestrian centre, benefiting from its extensive facilities which include indoor and outdoor schools and a purpose-built cross country course, as well as expert tuition from a number of top coaches, including international event rider and former pupil, Emily Baldwin.
Emily, who regularly teaches all three girls, commented: "We are so proud of the girls – they have all worked really hard to take part in the U18 series. It's wonderful to watch them grow in confidence as they come up through the school, and as their riding and partnership with their horse goes from strength to strength. The amazing team spirit and support at Mayfield has undoubtedly helped them get where they are today, and I'm sure will continue to support them to perform at their best at the championships."
Both Mady, who keeps her horse at the school's onsite stables, and Molly, who brings her horse in for lessons, are very excited to be taking part in the Championships for the first time, but are also admit to feeling a little nervous. Like Immie, they have both gained experience at national level competition by competing for the school, which has an enviable record, winning titles at national championships every year for the past 12 years.
Director of Riding at the School, Jill Barker, commented
"Mayfield has a very special team spirit which seems to help each girl perform at their best. Immie, Mady and Molly are all excellent team players and they will bring that special Mayfield spirit to the team going to Weston Park. We wish them the best of luck!"