Jessica Moody, a Year 12 student at Our Lady's Convent School, is a name to watch for the future. She has recently added to her growing record of artistic accolades by scooping first place in a national art competition.
In 2015 Jessica drew one of the shortlisted designs for the new 12 sided pound coin and earlier this year her work 'Lucy' was submitted to the ISA Art Competition where she was awarded first place in the Key Stage 4 category and National Winner of Key stage 4 Drawing.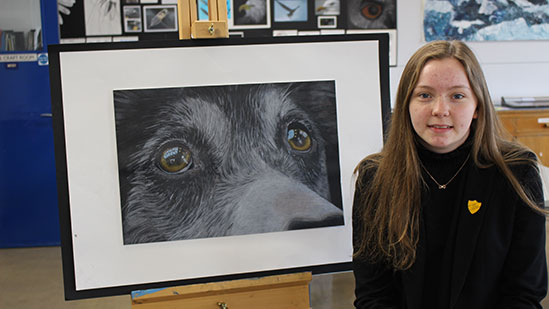 The School has since heard that her piece 'Lucy' was awarded the national first prize for best piece of art in any category in the Independent Schools Association Annual Art Competition. An outstanding achievement.
Her winning piece was drawn using pencil crayons from a photograph of her dog 'Lucy' and illustrates a real understanding of her subject and chosen medium.