Amidst the rich and varied programme of music-making at Farnborough Hill, the Senior Choir has gained an enviable reputation for singing Choral Evensong at some of this country's leading cathedrals. In November 2017, this non-auditioned choir of girls from Year 10 to 13, was invited to sing at St. George's Chapel, Windsor Castle and, although the heavy press presence was probably more to do with the recent announcement of a Royal Wedding, the standard of singing was certainly something to behold. Since then, in addition to regularly providing music for masses and services held in the school Chapel and giving more secular performances for a range of local charities, the girls have sung Choral Evensong at the cathedrals of Salisbury, Portsmouth and Winchester, as well preparing for their most exciting adventure yet: a visit to St. Paul's Cathedral, London on Monday 29 April.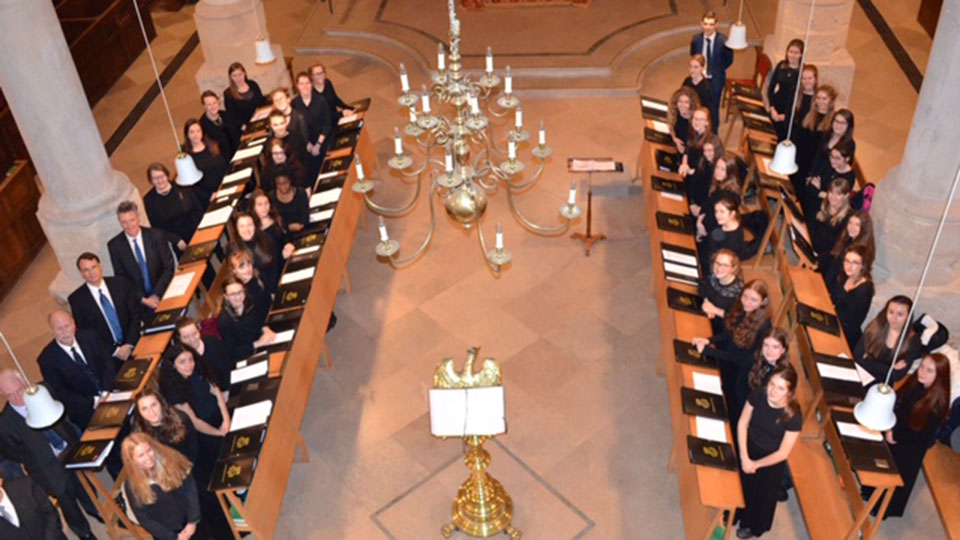 The journey began in April of last year when the choir, which also includes members of staff and some loyal friends who assist in the tenor and bass sections, gathered in the wonderful setting of the school Chapel to record some of their favourite tracks, including some of the material from Choral Evensong. Just over a year later, and on the back of this audition tape, a group of 50 singers from the Farnborough Hill Senior Choir will sing Evensong at St. Paul's Cathedral. Every time that a choir sings the daily Office of Choral Evensong, it becomes part of a wonderful tradition, both musical and liturgical, that goes back centuries. To do so somewhere like St. Paul's is a huge honour and privilege. It is also a huge responsibility and this invitation reflects both the commitment and focus that all of the girls put into their role within the choir, as well as their immense musicality.
The first few days of the new term will undoubtedly be extremely busy for the singers, many of whom will soon embark on GCSE and A-Level examinations. Rehearsals will be intense as the choir puts the finishing touches to the rich and varied repertoire needed for a service such as this but this talented group of singers will no doubt rise to their latest challenge and the chance to sing at St. Paul's Cathedral will be something that they will remember for ever.
Choral Evensong at St. Paul's Cathedral takes place at 5pm on Monday 29 April. The Farnborough Hill Senior Choir will sing Canticles in E flat by A. Herbert Brewer and the anthem The Spirit of Lord by Edward Elgar, as well as Responses by William Smith.
---
CISC are always delighted to share news, articles and updates from CISC member schools so please add info@catholicindependentschools.com to your press release list.