Students at CISC schools are celebrating another outstanding year for A Level results, with many students earning places at the top universities, despite a national outlook that suggests a fall in the number of top grades.
With nearly 70% of A Level examinations graded A*- B and a fifth of students achieving A*/A, St Edmund's College is celebrating another year of success for its sixth form leavers.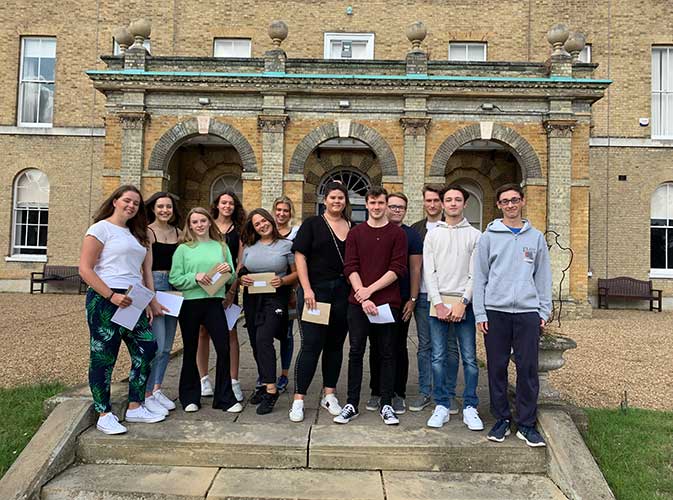 "It is especially satisfying to see another year of excellent results and outstanding value added", commented Paulo Durán, Headmaster, "proof that these results are the fruits of our students' ambition and hard work, supported by a committed body of staff in and outside the classroom. Studying at St Edmund's really does make a difference, developing our students in mind, body and spirit."
"Our leavers are going on to a range of prestigious and competitive universities as well as some highly sought after apprenticeship courses/training programmes; one of our students sky-high ambition is taking him on to pilot training!"
Of leavers progressing to university, nearly 60% have secured their first place choices and the school are delighted with the outcomes for those who went through adjustment and clearing. Popular choices this year include Birmingham, Cambridge, Edinburgh, Imperial, Loughborough, Nottingham, Queen Mary London, Royal Holloway and UCL.
Students at Our Lady's Abingdon Senior School celebrated an excellent set of A Level results, building further on the reputation of the school for guiding its students to significant academic success.
The 2019 results show an impressive 16% increase in A and A* grades from 2018, with 53% of grades achieved above ALIS baseline predictions, the best on record.
Commenting on the A Level and EPQ results School Principal, Stephen Oliver, said:
"We are thrilled. The results are a clear testimony to the hard and dedicated work of our students and the excellent teaching they receive from our staff team. Our small class sizes and highly praised pastoral support regularly help our students achieve beyond expectation but this year our value added has soared. This year's results show 53.2% of grades achieved were above their ALIS prediction, a really remarkable achievement. Well done to all concerned."
Head of Sixth Form, Dr Elizabeth Lawson, commented:
"I want to congratulate every student for what they have achieved. It's a joy to see all of the hard work paying off in such a happy and excellent way. It's emotional!"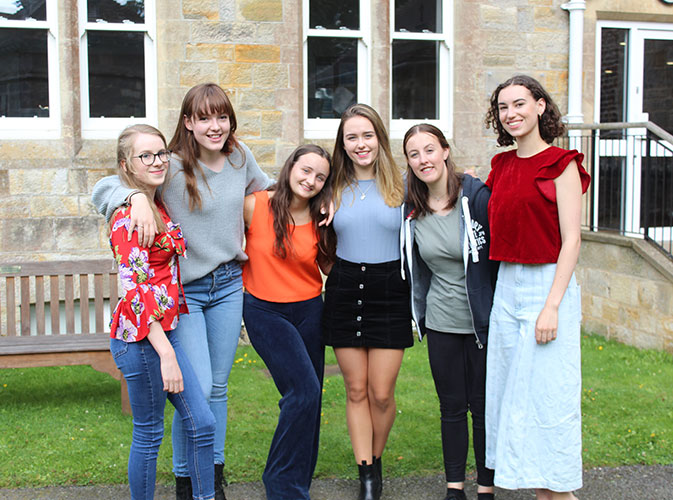 Students at Mayfield School celebrated a set of exceptional A Level results across the full range of disciplines, with the highest level of A* grades achieved in recent years: particularly pleasing given media reports of a fall in the awarding of top grades nationally.
Mayfield girls have secured places at leading universities in the UK, USA and Europe (including Oxford, Imperial, King's and UCL, Durham, Edinburgh and Exeter among others) to study a wide range of academic disciplines encompassing Aerospace Engineering, Classics, Economics, Graphic Design, Medicine, Modern Languages and Physics.
Headmistress, Antonia Beary, comments: "It is a great joy to see so many girls achieve such impressive results again this year."
"These results are a great credit to Mayfield's inspirational and dedicated staff, as well as the girls themselves, who have all worked hard. I am confident that another cohort of Mayfield girls are leaving us ready and prepares to respond positively to the opportunities and challenges the future holds for them."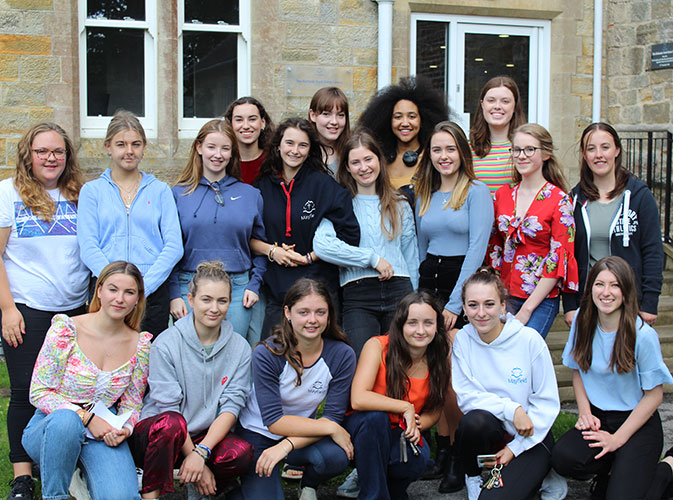 Students at Farnborough Hill were delighted to achieve outstanding results across the board, with two thirds of the year group earning an A*, A or B in all their subjects. The School was particularly delighted to see that 67% of the top grades were in subjects such as Mathematics, History, the Classics and the Sciences, as preferred by Russell Group universities.

Mrs Alexandra Neil, Head, shared her joy at the continued A level success, saying: "I am thrilled with today's results, which are the outcome of many months of hard work and dedication on the part of both the students and the staff. It is heartwarming to be a part of the celebrations this morning and share in the delight of the girls and their families as they open the door to the final stage of their education. We wish them every success and happiness and we will watch their careers and future progress with pride."


Sixth Form students at St Columba's College were thrilled with their A Level results, with many accepting their first choice of university.
Headmaster David Buxton said: "Despite the much-publicised administrative problems over certain A Level exams this year, the vast majority of our students gained the results which enabled them to progress on to their chosen degree courses. We wish them the very best for the future and congratulate them on their achievements. Thank you to all of the teaching staff for their tireless hard work and support for our students."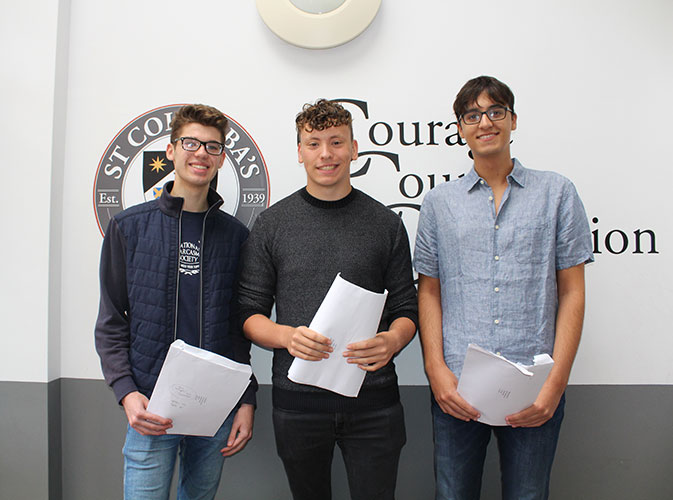 Notable achievements include Harvey who will study Theology, Religion & Philosophy of Religion at Cambridge University; Luke who will move onto Imperial to study Chemistry having achieved A* grades in Maths and Further Maths and A grades in Chemistry and Physics; George who will take up his place at The Royal College of Music and Zachary who will be studying Economics at the University of Chicago. Head Boy Thomas, who will take up his place at Durham, studying Engineering, having achieved top grades in Maths, Further Maths, Physics and Chemistry.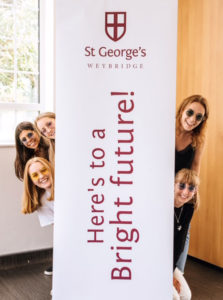 Headmistress at St George's College, Rachel Owens, was delighted after finding out that this year's A Level results equal and in some cases beat last year's record. "The students have worked hard and made the most of all the opportunities offered here, so I am confident they are not only the best version of themselves but are also absolutely ready for the opportunities they will be offered in the years ahead.
With over half (53%) of papers graded A*/A and 80% graded A*/B, there was a real buzz as students and their parents came back to school for a celebration Bucks Fizz breakfast. Among them were 40 students celebrating A*/A in every subject.
All the students already knew their results so the talk was of 'where next?' All those who applied for Oxbridge had their places confirmed, as did all those applying to read Medicine and the two who had been offered scholarships at American universities.
Students and parents agreed that nowhere could have prepared them better to take their next important steps into their future – their bright future. As one delighted parent said: "I have had a son at St George's since Third Year and two daughters who joined in the Sixth Form. They have all done exceptionally well and they are a testament to the education provided here."
Jon Carr, Head of Sixth Form, said: "It was a wonderful breakfast where teachers, parents and students were celebrated for all the support and work that each has put in to ensure this current year of leavers have achieved one goal and are ready to achieve the next."
Karl McCloskey, Principal of The Marist School said, "The results this year are outstanding and I am extremely proud of each and every girl who has achieved their potential this year. To end my time as Principal of The Marist School on such a high note is immensely satisfying and I thank all staff and parents for their unwavering support and commitment to the girls."
This year's A level results have been another exceptional year for The Marist with 21% of grades achieved at A*, 52% at A*-A and 81% A*-B. Across the board, 100% of grades were A* in English Literature, Maths and Further Maths. Furthermore, 100% A*-A grades were achieved in Biology, Chemistry, Economics, Photography, French, Philosophy and Ethics.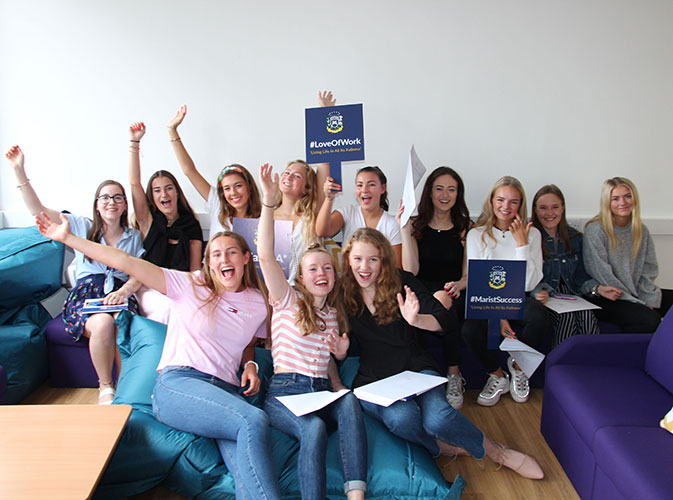 Pupils at Woldingham School achieved excellent A Level results with nearly half of all grades at A*-A, one in five at A* and a quarter of pupils achieving straight A*-A grades.


Woldingham students are all expected to engage with the fullness of co-curricular opportunity, to commit to service and leadership and to develop interests beyond the curriculum. Students showed that this engagement goes hand in hand with academic success with one in four achieving straight A*-A grades at A Level.
Headmistress Mrs Alex Hutchinson commented:
"In a girls' school there are so many more opportunities to take on leadership roles, to try new things without feeling self-conscious and to grow as individuals. I am thrilled that our girls demonstrate that this understanding of service and this willingness to be involved with the wider community goes alongside academic success. Watch out for our Woldingham women – we expect them to change the world."
Sixth Form students at New Hall School are celebrating a record-breaking year of outstanding A Level results. The highest ever percentage of top grades was achieved, with 50% of grades at A*/A and 16% of grades at A*. A further record was set with 84% of grades at A*-B. Once again New Hall announced a 100% success rate overall in 327 A Levels sat, results which included students achieving 100% in a number of A Level papers.


Principal, Katherine Jeffrey, said: "We are extremely proud of all our students' successes and it is wonderful to see their excitement today after all their hard work. We are delighted to hear that a record number of students have secured places at their first choice universities, including competitive Russell Group university courses in subjects such as Law, Engineering and Medicine. The university and apprenticeship places that New Hall students have gained reflect the holistic education that the School offers, from Humanities to Medicine and Engineering to Modern Languages."
Pupils at Leweston School, Sherborne, have once again produced an excellent set of A Level results with 17% of all entries achieving the highest A* grade, the best performance at this level since 2016. The School's Dorset based pupils achieved a 77% pass rate at grade A* to B.
These results have enabled Leweston's leavers to receive places on a wide range of courses including Physics and Astrophysics at Manchester, Sociology at Newcastle, Philosophy and Ethics at King's College London and Zoology at Reading.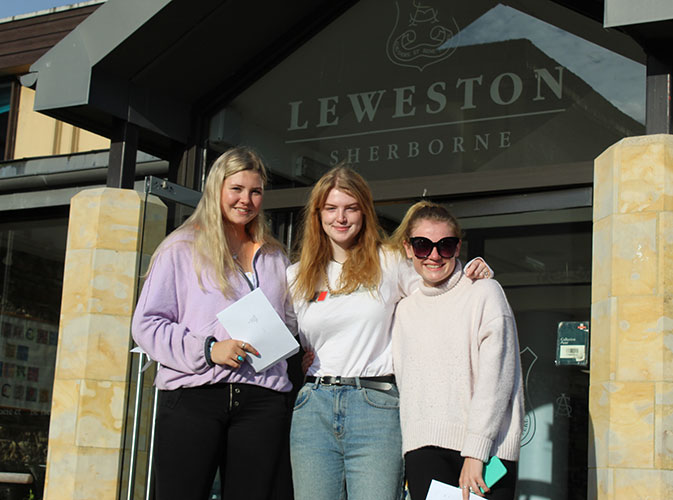 Mrs Kate Reynolds, Head of Leweston, commented:
"Every year the results and percentages only tell part of the story that makes Leweston so proud of all that its students achieve. The grades speak for themselves but behind each set of statistics is a pupil who has achieved so much more, both inside the classroom and beyond. The successes of each and every pupil are celebrated here and well-deserved congratulations go to all our A level students and to their teachers and other staff who have been influential in ensuring another year of exceptional outcomes."
Trinity School, Teignmouth is celebrating some fantastic results from its impressive pupils with many exceeding their expected grades this year.
Nearly 40% of all A levels taken received A*/A grades, with a 100% pass rate overall with the same pass rate for BTEC Level 3 results. Knowing pupils well, being able to give them the personal support and guidance has resulted in several pupils achieving, on average, over one and half grades higher than their baseline predictions when they started their Sixth Form journey. This follows on from the news earlier in the year that Trinity was ranked in the top 5% of all schools and colleges in England for progress made at Sixth Form by the Department for Education, and these impressive results are further evidence of the value added that Trinity provides – academically and personally.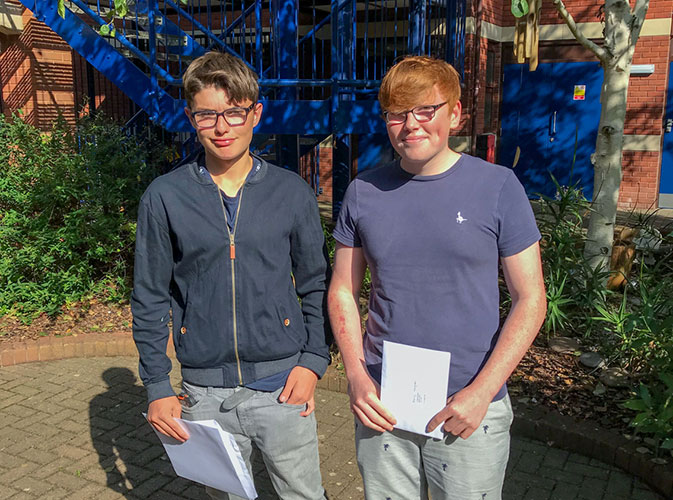 The standout performer was Claus, who received three A* and one A in Maths, Further Maths, Physics and Chemistry confirming his place at Imperial College. It is also notable that Claus achieved an A* in Chemistry having completed the course in just one year, thus showing that the individual approach that Trinity adopts works for all students.
The destinations of our leavers this year varies greatly, from Russell Group universities to an apprenticeship at a football academy in Portugal to going directly into employment. This range highlights the individual approach taken to education at Trinity and the equally successful paths that pupils follow in order to achieve their personal goals.
---
For more information on the featured schools' results, including the achievements of individual students, please visit their websites.
CISC are always delighted to share news, articles and updates from CISC member schools so please add info@catholicindependentschools.com to your press release list.