Adding to last week's A Level successes, it was the turn of GCSE students to celebrate exam accomplishments this week. It has been another outstanding year for CISC Schools, with a far higher number of students achieving the top grades across all subject areas. Our heartfelt congratulations go to each and every student as they now embark on the next stage of their educational journey.
St Columba's College is celebrating an excellent set of GCSE results with top grades at an all-time high. In the new 'tougher' GCSEs, students excelled with 56% of all grades being at 9-7.
Headmaster David Buxton said: "We are delighted that for the second consecutive year the College has surpassed its best ever GCSE results. The results are testimony to the hard work of the students and also to the commitment of our dedicated teaching staff. Thank you to our teachers and congratulations to our students as they move on to A levels and further education."
Ifaz led the way at St Columba's with ten grade 9s and an A* with distinction in Further Maths.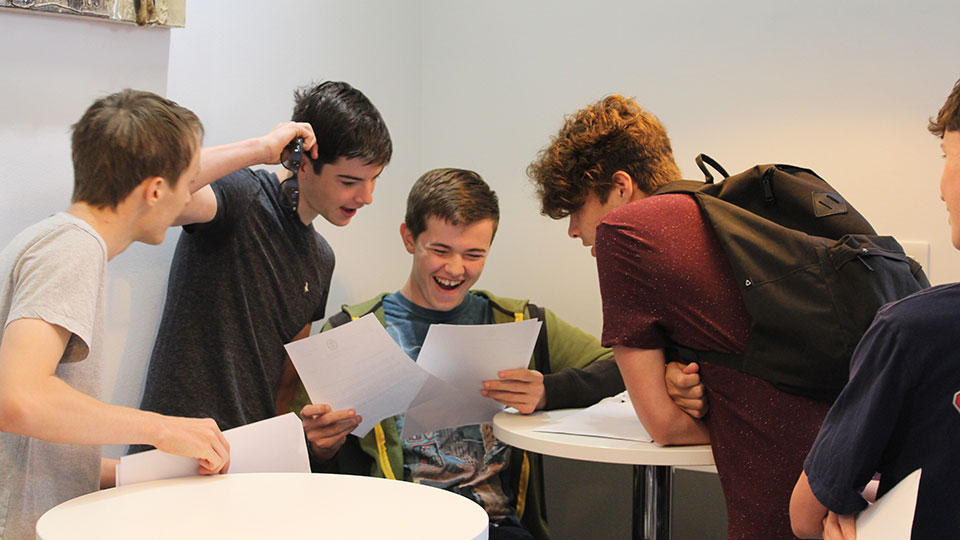 The record-breaking run of St George's GCSE students has also continued this year, with eight in every 10 papers graded 9-7 (A*/A) and 97% marked as 9-5 (A*/B).
"Our Fifth Year students should be exceptionally proud of themselves," said Rachel Owens, Headmistress. "These wonderful results are a testament to both their hard work and the commitment of their teaching staff. It is so fortunate that St George's attracts both ambitious students and dedicated staff."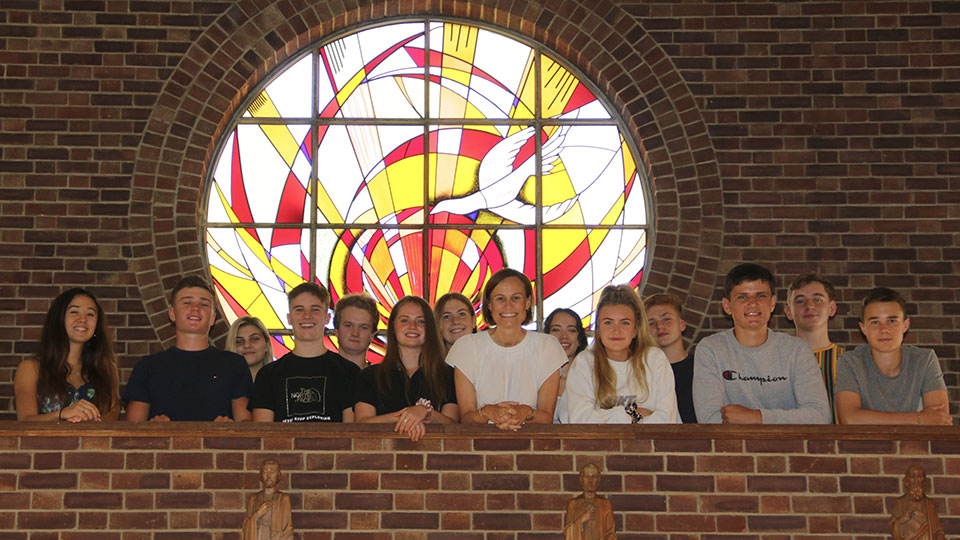 Sixteen students gained straight 9-8 (A*s), of which:
Three – Alice, Jasmine and Rachel – achieved 12 straight A*s
Three – Sebastian, Emily and Joe – achieved 11 straight A*s
Five – Ekaterina, Joel, Charlotte, Daniel and John – achieved 10 straight A*s
Joel, Sebastian and Rachel also won the ultimate award of A* with Distinction in Further Maths.
Interestingly, three of our top students joined St George's 13 years ago in the Nursery!
"Teaching young people such as these is a real privilege," said Emma Brambell, Head of Fifth Year. "We have watched them coming on in leaps and bounds in the last two years and they have really earned their success."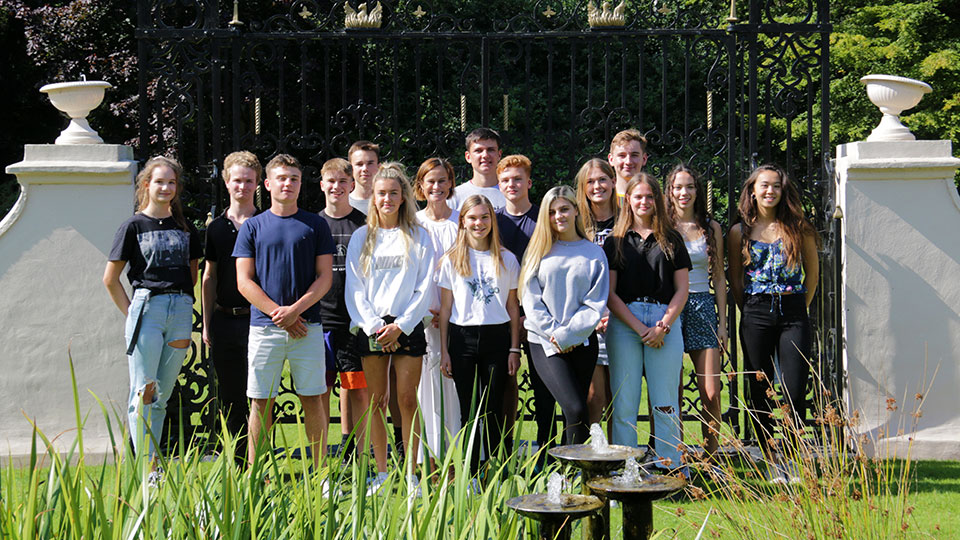 Adding to the impressive A Level results announced last week, Mayfield girls are celebrating another exceptional set of GCSE grades. Over 40% of entries were awarded 9-8 or A* equivalent, with almost 70% graded 9-7 or A*/A equivalent. 100% of GCSE entries achieved A*-C equivalent grades. Over one in five girls were awarded all A*/A equivalent grades in ten or more subjects and 100% of girls gained five or more 9-4 or A*-C equivalent GCSE grades.
The girls have excelled across all academic disciplines, including the compulsory subjects studied at GCSE at Mayfield (English Language and Literature, Maths, Biology, Chemistry, Physics, Religious Studies and a language).
Particular highlights include 80% of girls awarded 9-7 or A*/A equivalent in Religious Studies, 72% awarded 9-7 in English Literature, 70% 9-7 in Geography and almost 70% 9-7 in the three separate sciences.
As well as developing academic excellence, the School is acclaimed for its Creative and Performing Arts and this is reflected in outstanding GCSE grades: 100% of Music entries were awarded 9-7 with 50% at the top Grade 9, recognising the very best performing students, whilst in Drama two-thirds of girls were awarded Grades 9-7, with over 50% achieving 9s and 8s or A* equivalent. In Ceramics, 56% of entries were awarded Grades 9 and 8, with two girls achieving almost perfect scores.
Headmistress, Antonia Beary, comments:
"It is a pleasure to see so many girls do so well again this year. Although the courses have become more rigorous, we are delighted that Mayfield continues to achieve consistently high results across the board. Of course we are proud of A* and Grade 9s and 8s but no one should be judging individuals simply on examination results and I hope that every girl is proud of what she has achieved as each grade reflects real effort and application. I remain convinced that Mayfield girls are successful because they are able to have fun and balance involvement in a range of activities with their GCSE preparation: this in turn means that they are calm and collected when they enter the examination room. Of course, knowing that they have been taught well also helps calm the nerves and all credit goes to the teachers who have supported and inspired them. Such a balanced, open minded approach reaps rewards not only in the exam room, but more importantly in preparing girls to respond to the challenges of life after School".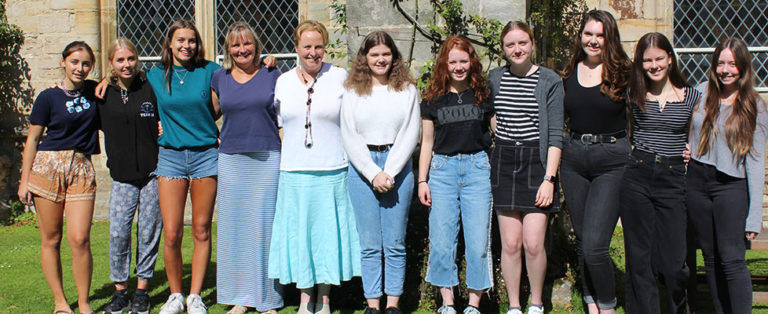 Students at Our Lady's Abingdon Senior School celebrated another strong year of GCSE results.
The 2019 results show a 4.1 % increase in grades 9 – 4 from 2018. The sciences are the stand out performers this year with Physics (88%), Biology (81.3%) and Chemistry (75%) of pupils achieving grades 9 – 7. This compares very favourably even with last year's excellent figures of 63%, 79% and 74% respectively for these subjects.
There were also excellent results in English Language where 79% of pupils achieved grades 9 – 7 and in Art where 72.7% celebrated the top grades.
Commenting on the GCSE results School Principal, Stephen Oliver, said:
"These are excellent results for our sciences in particular. I want to congratulate our budding scientists for all their hard work in achieving this magnificent performance building further on our science success in GCSE last year. I am also delighted by the increase in our grade 9 – 4 scores. This is testimony to the hard and dedicated work of our pupils and the excellent teaching and pastoral support they receive from our staff team. Well done to all concerned!"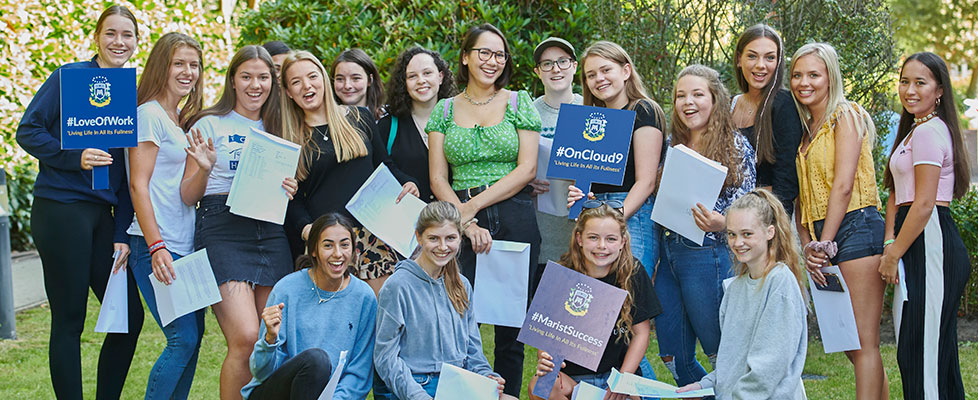 Latin, Business and Physical Education were the stand out subjects this year at The Marist School in Sunninghill with each subject gaining the highest numbers of 9 grades across the board.
Karl McCloskey, Principal of The Marist School said, "On the back of stellar A level results, in which we are one of the top performing Catholic Independent Day Schools for Girls, we delight in the attainment of our GCSE students today. It's another academically strong year for Marist girls with 99.5% achieving 9-4 grades and over 50% achieving grades 9-7. English Literature has received bad press recently but with 35% of grades in English Literature and Language scoring the top mark of 9, we spectacularly bucked the trend! Art is another forte with the school GCSE artists celebrating today with 89% of art exams graded 9-7."
He added: "The GCSE curriculum at The Marist offers students the opportunity to choose from twenty-four different subjects and our small class sizes provides students with high-quality teaching and personalised support. We believe this, along with our values based approach and strong pastoral care enables our girls to excel and fully achieve their potential."
Pupils at Farnborough Hill were also celebrating as they received their excellent GCSE results. The School is delighted that 56% of all the results were at the top grades of 9 – 7, with an excellent pass rate of 98%. Most pupils took 10 GCSEs, choosing subjects as diverse as Classical Greek, Design Technology, German and Computer Science.
There were some truly outstanding individual successes: six girls achieved eight or more grade 9s. Sophia S led the pack by earning a phenomenal nine grade 9s and two grade 8 in her 11 GCSEs, Emily P shone with eight 9s and two 8s, Katherine B achieved an exceptional seven 9s and three 8s and Mia C, Jennifer T and Rachel W each celebrated eight grade 9s, one grade 8 and one grade 7. Caitlin W was delighted to share the academic glory with her older sister Lauren, who last week received two A*s and an A in her A levels, by earning five 9s, four 8s and a 7.
The academic staff also celebrated the wonderful achievements of their pupils, with Music, History, RE and the Sciences enjoying particularly strong results.
Alexandra Neil, Head, was overjoyed with the girls' achievements saying, 'The results unveiled today are testament to the girls' hard work and tenacity; they should be incredibly proud of themselves. They have set themselves up well for the next stage in their education and have laid strong foundations which will enable them to unlock a future of their choosing. At a time of continuing educational change and increased rigor, I am delighted that Farnborough Hill has achieved an excellent pass rate of 98%. It is a joy to see the smiles here today as the pupils not only celebrate their own achievements, but also those of their friends.'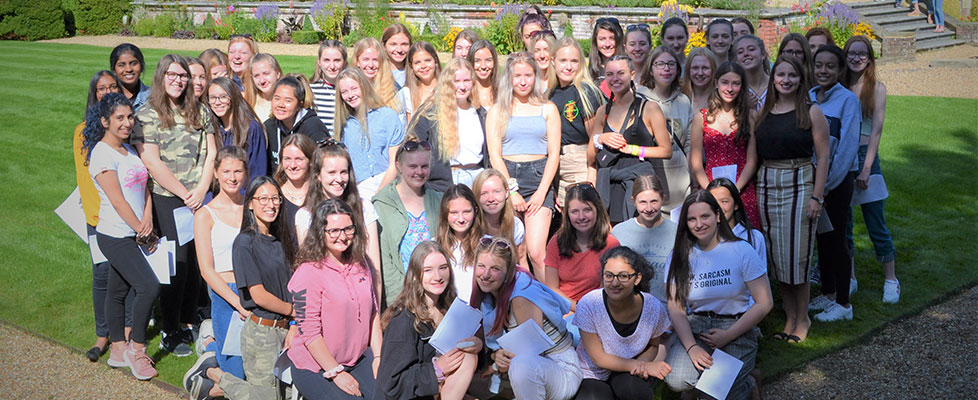 A third of all the GCSE results received today at Leweston School have achieved the highest grades 8 or 9. 51% were given a grade 7 (or A) and above, well over twice the national average of 20.8%.
81% of exams were graded 9 to 5, this is the third successive year that this impressive total has been achieved. An impressive 68% of the cohort gained at least one grade 8 or 9 and over half received grades 9 to 5 in all their examinations.
Kate Reynolds, Head of Leweston, congratulated the students on their achievements:
'This is a fabulous set of results. Over 25% of grades were one or more levels above target proving, once again, the exceptional value that is added to our pupils' results at Leweston thanks to the pupils' positive mind-sets and the exceptional support from our professional and dedicated staff. Equally impressive are all the other activities that our GCSE cohort were involved with from equestrian to pentathlon, drama and Duke of Edinburgh to mention a few highlights. They have worked hard whilst embracing the benefits of a rounded education full of enrichment.'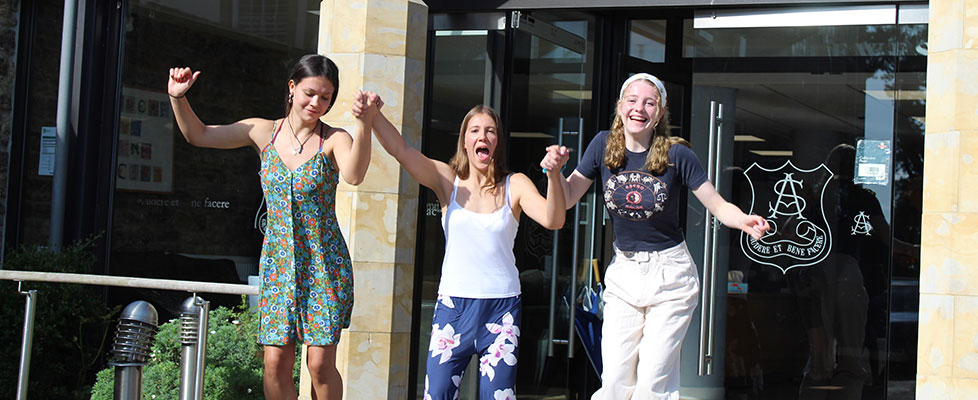 The Towers proudly announces yet another year of excellent GCSE results, in which the girls achieved an extremely impressive 98.3% Level 9 to 4. These superb achievements place us, as a non-selective school, comfortably among the nationally published results of selective schools with 65.53% of the grades between Level 9 to 7. Every single girl is to be congratulated on her hard work and determination to do her very best.
Two notable success stories are Kira, who achieved 10 GCSEs at Level 9, 1 at Level 8 and an A in Additional Mathematics and Madelaine Parmar, who secured 9 GCSEs with 7 at Level 9, 1 at Level 8, 1 at Level 7 and a C in Additional Mathematics.
Mrs Trelfa, outgoing Headmistress, said, "Towers girls never let us or themselves down. We are incredibly proud of all of them, their achievements, hard work and resilience. They thoroughly deserve their excellent results, which were enabled by our extremely dedicated teaching staff and the support of their families. I wish them the very best of luck for the future."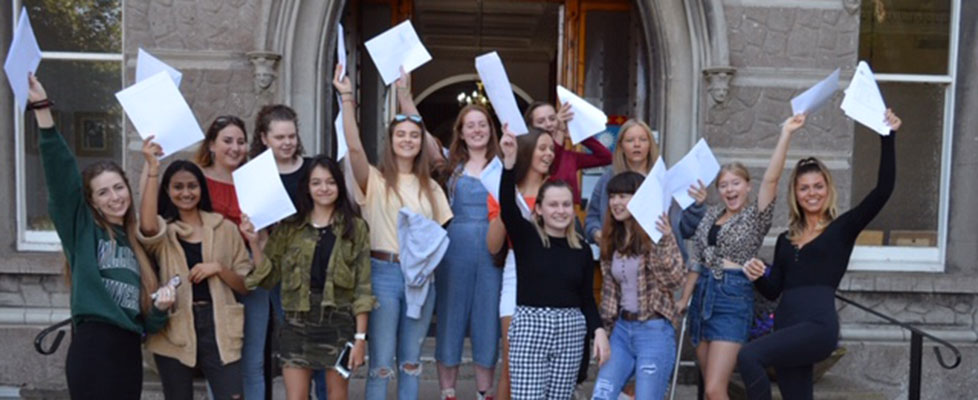 Students from New Hall School, celebrated record-breaking GCSE results, following on from their most successful ever A Level results, last week. A record 90% of grades at GCSE were at 5+ or A*-B with a third of all grades at 8+ or A* and 51% of grades at 7+ or A*/A. The students also achieved a record 14% of grades at the new highest grade 9, three times the national average.
Principal, Katherine Jeffrey, said: "Once again, we are extremely proud of our students' fantastic GCSE successes. Today's results are testament to the 'diamond model' of education, in which girls and boys are taught separately from the ages of 11-16. The 'diamond model' sees our top performers equally divided between boys and girls."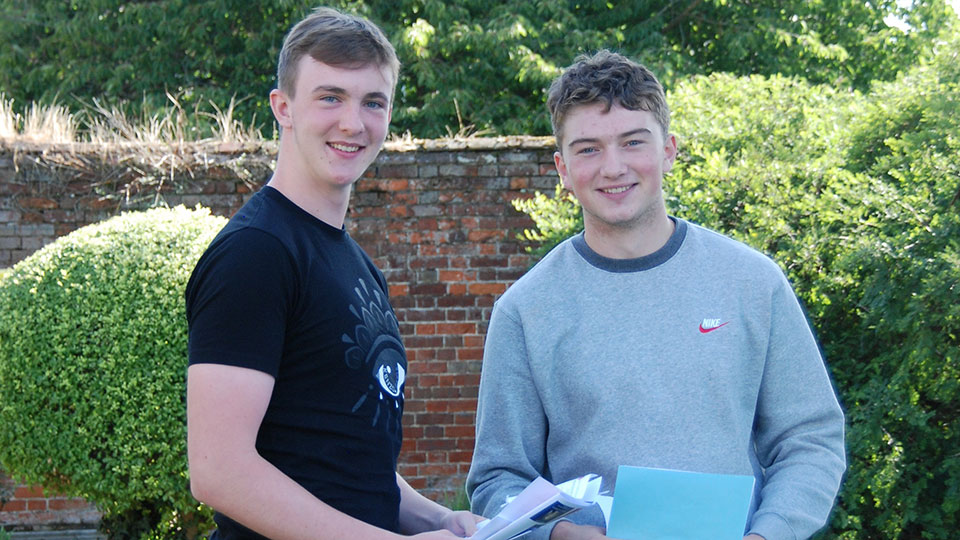 Head of Girls' & Boys' Division, Suzanna Minnis, said: "I am delighted to celebrate these fantastic results with our students and their families. The hard work and determination of students and staff has clearly paid off and it is wonderful to see the students' excitement today. The holistic education offered by the School provides the best possible preparation for our students to continue their studies in the Sixth Form."
Outstanding achievers include many boarding students. Vice Principal, Julius Sidwell, said: "The benefits of boarding at New Hall are reflected in this year's outstanding GCSE results, with 78 A*s or 8/9 and 74 As or 7s achieved by the 38 boarders in this year group. The strong pastoral and academic support offered to our boarders has led to their gaining excellent GCSE results. The time saved by taking away daily travel to and from school, as well as the dedicated study time and out-of-hours help from academic staff enable our boarding students to excel in the classroom as well as to enjoy the full co-curricular programme of activities offered daily at New Hall."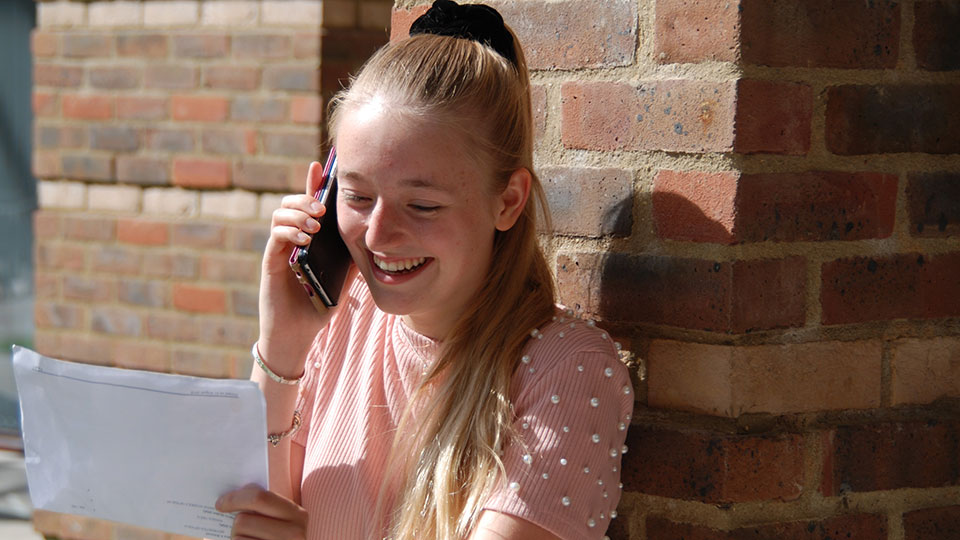 St Edmund's College, Ware were pleased to announce that 93% of their 2019 GCSE cohort achieved 5 grades A* – C ( 9 –4). This is testament to their ambition, efforts and determination to do well and the hard work and commitment of our teaching staff.
Based on entry data, 20% of GCSE year achieved 9 to 8 including A* – A with just under 40% of students achieving 9 to 7 including A* – A.
Incoming Headmaster, Mr Matthew Mostyn, commented: 'As I look forward to taking over as Headmaster next week, I can claim no credit whatsoever for these wonderful results, but am excited by the prospects which they suggest as we look to the future. Today is a day when our GCSE students should be rightly proud of all that they have achieved, and many have performed even better than expected. Many congratulations to all of them and, as always, heartfelt thanks to those who taught them.'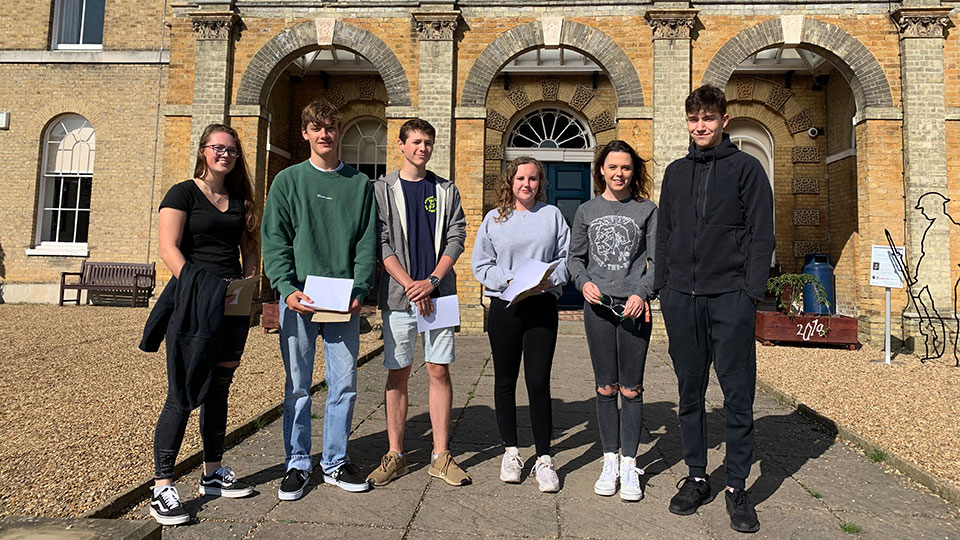 ---
For more information on the featured schools' results, including the achievements of individual students, please visit their websites.
CISC are always delighted to share news, articles and updates from CISC member schools so please add info@catholicindependentschools.com to your press release list.