Pupils and staff in the Prep School celebrated REDS4VEDS Day to raise awareness of Vascular Ehlers-Danlos Syndrome (VEDS) and to support their fellow pupil Hugo Whatton, who has Vascular Ehlers-Danlos syndrome. The whole Prep School wore red and took part in a 30-minute sponsored silence.
VEDS is a rare genetic condition that causes faulty collagen, affecting approximately 1 in 90,000 people.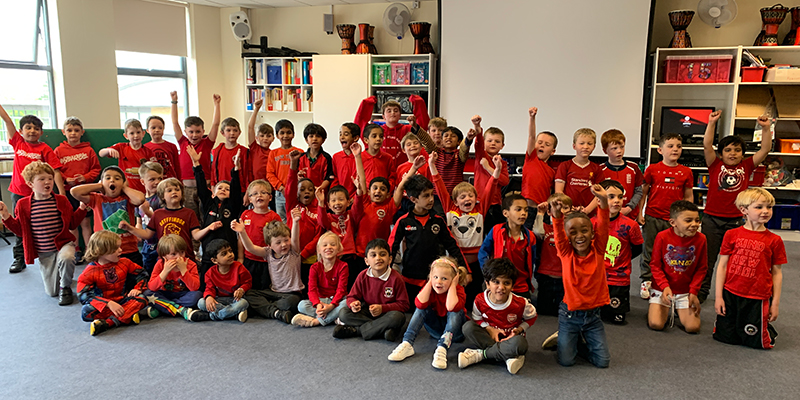 REDS4VEDS Day is a global campaign organised by the charity Annabelle's Challenge to raise awareness and show support for people that have the rare condition.
Hugo's mum, Victoria Whatton, says: "Unfortunately, if like Hugo you have VEDS, you make faulty collagen that doesn't work properly, and it doesn't hold tissues, skin and blood vessels together very well which means they are prone to rupture at any time. This can be very difficult for Hugo to do normal activities that we take for granted.
We're very lucky that he's at an amazing school that works so hard to keep him safe whilst allowing him to do 99% of what his peers do. The school, staff and children are so caring and supportive to his needs and is a real accolade to the ethos and values of the school.

Hugo and us as a family were so overwhelmed and grateful for the support shown to him and the charity when the whole of the Prep School staff and pupils wore red for him on REDS4VEDS day."
Head of St Columba's Prep, Mr Richard McCann, says:
"We were delighted to support such an important campaign to raise awareness of Vascular Ehlers-Danlos syndrome.
Hugo and his family once again led our initiatives and we celebrated as a community by all wearing red and having a sponsored silence to show our support. This was no mean feat as they all had to be completely silent as they enjoyed their lunch. We're very proud to have helped promote this rare genetic condition."