Results days are always such a heightened experience and perhaps no more so than this year. Since the GCSE and A Level classes of 2021 embarked upon their academic courses they have experienced two full terms of on-line learning and various hybrids in between, as well as coping with the emotional challenges of being isolated from friends at a time in your life when they're your world. And so it is with great respect and a certain amount of awe and wonder that I congratulate them on their hard earned and richly deserved results and wish them all the luck in the world as they embark upon the next stage of their educational and life journey.
The outcomes for many of our schools and pupils have been outstanding and this is testament to the dedication, nurture and professionalism of all those who teach and work in CISC schools. Teaching is so deeply relational and yet teachers have striven to develop online pedagogies that retained that professional relationship and discourse with students, allowing them to achieve to their potential. Thank you, each one of you, for your dedication, commitment and care of your students.
Thanks, also, to the many CISC schools that have shared stories and pictures of this special days. I don't know about you, but I look at the images and remember my own feelings on my result day….knowing that the world was opening up for me in a new and exciting way. And I am minded of the prayer to the Holy Spirit and it's call to 'renew the face of the earth'. I have no doubt that our CISC alumni will do just that.
---
A Level and GCSE highlights
The Oratory School
The last all boys cohort from The Oratory School celebrated a further year of substantial improvement in A Level results with grades at A*-A (73%), A*-B (89%) and A*-C (98%) all showing significant gains on last year; the vast majority of pupils have again gained entry to their first choice universities. GCSE results were equally impressive, with 23% grade 9s, 44% of grades in the 9-8 category, 60% at 9-7, and 95% at grade 4 or higher.
Head Master, Mr Joe Smith, said in reaction to the results: "Pupils have coped magnificently with the demands of remote learning and the other pressures caused by the pandemic. These fine grades are a fitting testament to their approach, as well as the outstanding work and pastoral care of their teachers and other staff."
The Marist
The Marist School, Sunninghill, marked another year of excellent A Level results with 86% A*-A grades and 100% grades A*-B. In addition, 100% of students achieved their first choice of university. At GCSE, 25% of grades achieved were 9s with 51% 9-8 grades and 75% 9-7 grades. Top performing subjects include the Sciences, English and Maths, and Classical Civilisation.
Mrs Jo Smith, Principal of The Marist School said: "We are delighted to be celebrating another year of outstanding results. Students have worked tirelessly; they have shown incredible determination and resilience and they should be very proud of their achievements."
Farnborough Hill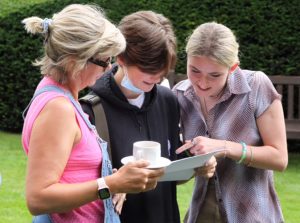 Farnborough Hill students have excelled once again in 2021, with the average grade in this year's A Level cohort being a grade A. The vast majority of Farnborough Hill students have confirmed places at their ambitious first- choice universities, with a diverse range of degrees courses from Biomedical Sciences to Business Management, Physics to Photography.
Farnborough Hill Head, Mrs Alexandra Neil, praised and congratulated the 'indomitable spirit' of Year 11 as 2021 GCSE results were also revealed. Pupils have shone once more, with the average grade in this year's cohort being a Grade 7, the equivalent of a Grade A. Twenty pupils achieved all Grade 9s and 8s alongside 39 pupils who achieved Grades 9 to 7.
Stonyhurst
Stonyhurst enjoyed exceptional A level and IB results for 2021. International Baccalaureate (IB) highlights included a 100% Diploma Programme pass rate with 71% of pupils achieving 36 or more points, equivalent to 3As at A level. And 'A' level highlights featured a 99% pass rate with 55% of all candidates received all A*- A and 81% of all candidates received A*- B.
GCSE students performed with equal splendour with standards flying high once again. Stonyhurst GCSE 2021 highlights include 28% of pupils achieved a grade 9, 46% achieved 9-8 and 65% achieved 9-7.
Headmaster John Browne said: "This has been a year of unprecedented challenge and these fine young people provide hope and inspiration for the future."
St Columba's College
Sixth Form students at St Columba's College had plenty to celebrate as they received their A Level results, with many progressing onto their first choice of university or apprenticeship. Paul McLeod (pictured with his twin brother, Conor) is heading to the USA, having secured a place at the University of Notre Dame to major in Economics. His twin brother Conor is going to the University of Bristol to study Biochemistry.
Year 11 students at St Columba's College in St Albans celebrated their GCSE results today. Overall, the results at St Columba's reflect the continued improved performance of the school over the last four years, with 62.6% of all grades at 9—7 and 99.8% of all grades at 9—4.
Headmaster David Buxton said: "Congratulations to all our students receiving their grades this week. The results continue an upward trend for the College since 2018 but most importantly they reflect the hard work and adaptability of this cohort of students who have also had to display such high levels of resilience during the course of their studies. As always, what matters most is that students are able to progress on to their chosen destination. I'm sure that they will go on to do great things with their lives and make valuable contributions to society."
---
As CISC schools we know that academic success, whilst important, is only one part of the formational journey of Catholic education. Behind these remarkable statistics sit individuals who have also engaged in a diversity of school, community and charitable endeavours which have further enriched their experiences.
Alexandra Neil, Head of Farnborough Hill sums this up beautifully: "The resilience pupils have had to show to achieve their results will undoubtably serve them well in the future. I look forward to hearing more about the positive impacts they will go forward to make in the world and to following their future accomplishments and successes."
I think we all do!
Dr Maureen Glackin
General Secretary