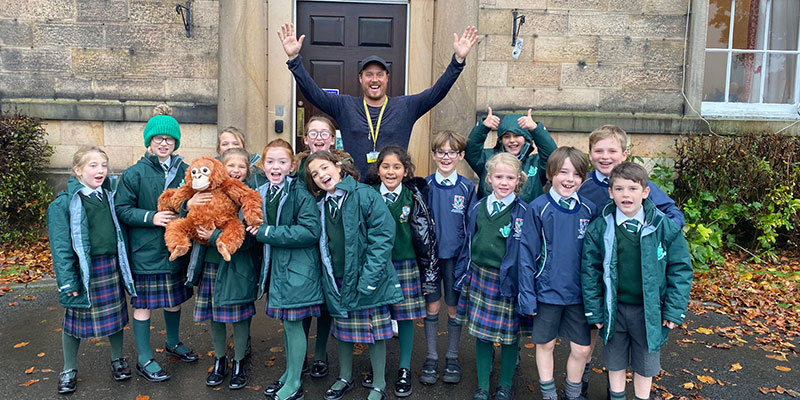 Earlier this term pupils at Stonyhurst St Mary's Hall took part in an event designed to act against climate change. The outreach education project was led by a host of impressive climate experts, activists and authors.
During the final week of the 26th United Nations Climate Change conference (COP26), pupils from Stonyhurst's Prep School took part in an event designed to act against climate change. Children at the independent school in Lancashire were presented with a host of engaging workshops hosted by 'Creature', an outreach education project, led by a host of impressive climate experts, activists and authors.
Creature state that in the latest scientific report, there is currently a 50:50 chance of global climates rising above 1.5 degrees celsius in the next 20 years. Even with every pledge made from world leaders to date, temperatures are still on track for a 2.7 degrees celsius rise in the next 80 years, unless there is swift action. With this in mind, and with COP26 in full swing, the event, which was funded and hosted by Stonyhurst, was designed to engage and inspire school pupils to act against the disastrous effect of global warming.
Over the course of two days 24 workshops were presented at the school by distinguished experts from various industries, with multiple virtual lessons being held by experts and organisations from around the world. Notable speakers included Jack Randall (Zoologist, Filmmaker and National Geographic Presenter) who started out his career as Steve Irwin's apprentice at aged 14. Jack presented real-life creatures during his talk with St Mary's Hall pupils, including a snake, tarantula and cane toad and shared his adventures from around the world, speaking about the effects of climate change on wildlife in the modern world. Stonyhurst pupils heard first hand witness accounts from those working in the front lines of conservation and humanitarianism, focusing on: disaster relief, extreme weather, biodiversity loss, carbon storage technology and food consumption. Another speaker, award winning author and campaigner James Sellick, spoke about the impacts of palm oil and industrial meat production as well as his experiences creating large scale campaigns with Greenpeace.


Ian Murphy, Stonyhurst St Mary's Hall Headmaster said:
"We couldn't miss this wonderful opportunity to put COP26 as top priority for the children. Our pupils are the agents of positive change today, and in many years to come. They understand the urgency and can increasingly hear the 'cry of the earth, and the cry of the poor', acting immediately, both individually and collectively.''
During the event St Mary's Hall pupils were curious and engaged about the issues facing the earth. There was a particular emphasis upon the plight of the world's poorest and most vulnerable communities, and the exaggerated and disproportionate impact climate change is causing in many of the developing countries of the planet. Pupils are now keen to actively assimilate their knowledge and embrace their own lifestyle changes to help protect the planet and all its people for future generations, enabling them to become 'men and women for others.'
The outreach education project, Creature, was founded by author and eco journalist Sarah Roberts, whose first picture book, 'Somebody Swallowed Stanley', was read out on CBeebies bedtime stories by Tom Hardy in March 2021.