GO! is about to begin once again! As St George's Weybridge's annual outreach programme, it's a valuable volunteering opportunity for St George's pupils and students offering a unique opportunity to connect with the community in a mutually beneficial way.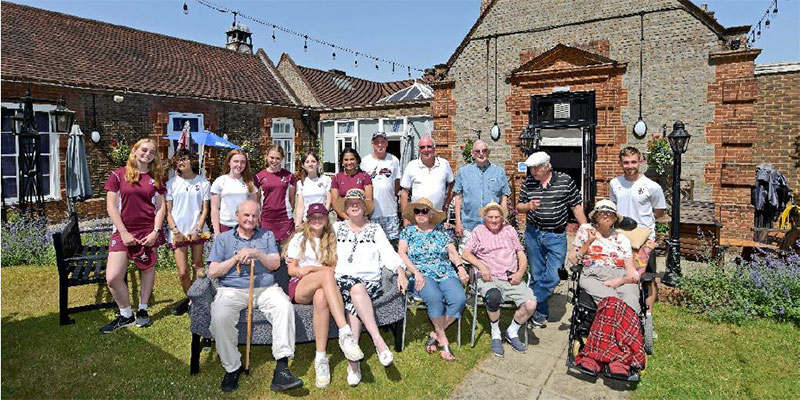 GO! has been running since 2016 at the College and 2019 at the Junior School, and each year the number of projects they look after increases. The programme has fantastic support across the school community, with teaching staff and volunteers acting as role models and getting stuck in, too.
Over 750 College students and 240 Junior School pupils have now taken part with great enthusiasm and joy. And the organisations involved in this programme – local schools, farms, churches, residential homes and conservation charities – are always full of praise for the work done.
This year's programme will begin on Monday 5th June and run until Friday 14th June. The activities are varied, and during the first week include helping a conservation project on Fairmile Common, where Junior School pupils will be learning about how their work will support habitats and biodiversity; supporting a sports event at the Junior School for 90 children visiting from Echelford School; and creating beautiful artworks to be displayed in a local care home.
During the second week, the College students will enjoy more hands-on projects. They will work with local charities, including the Addlestone Salvation Army, the Lumen Trust of local schools, St Augustine's Care Home and Whitely Village, who are very much looking forward to welcoming back our students after a very successful GO! visit last year.
Antony Hudson, Headmaster of the Junior School, commented, "GO! is a brilliant opportunity for all our oldest pupils to really get involved in volunteering, and to understand the impact they can have within their local community. It's wonderful to see the sense of achievement on their faces, and I've no doubt this year will be another successful year for them and the projects they take part in."
And Headmistress of the College, Rachel Owens, said, "Our Third Years are the perfect age for the hands-on projects they will be taking part in. From offering classroom support at Lumen Trust schools, to conservation work that supports local wildlife habitat – students will make a demonstrable difference during GO! that helps foster a love for volunteering."
---
It's always so lovely to share news from our member schools so please do keep sending it in to us at info@catholicindependentschools.com