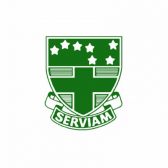 We are an established Roman Catholic independent school and nursery for boys and girls from the ages of 3 to 11, and part of the worldwide network of Ursuline schools. At The Ursuline Prep School we aim to give each child the best possible start in life. As well as having extremely rigorous academic standards along with high expectations of behaviour, we provide pastoral support appropriate to the needs of each unique child in our care. The National Curriculum provides the basis for our programmes of study, but these are enhanced and enriched to reflect the calibre of our pupils. Specialist teachers teach music, PE and MFL. We encourage pupils to participate in the extensive range of extra-curricular activities such as speech and drama, ballet, Irish dancing and a wide selection of musical instrumental tuition. We are a small school that provides a friendly, secure, happy and stimulating environment and are extremely proud of each and every one of our pupils.

Headteacher:

Lorraine Pereira

No Records Found

Sorry, no records were found. Please adjust your search criteria and try again.

Google Map Not Loaded

Sorry, unable to load Google Maps API.