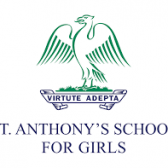 St Anthony's School for Girls is an independent Catholic school located in Ivy House, on North End Road, NW11. It opened in 2016 as the sister school to the highly successful St. Anthony's School for Boys in Hampstead.

St. Anthony's School for Girls teaches pupils in a Catholic environment, and is inclusive and open to other faiths. The school educates girls from the ages of 4 – 11. Our aims and ethos underpin every aspect of school life at St. Anthony's School for Girls. As with our sister school, St. Anthony's School for Boys, it is our nurturing family environment and high quality education which makes us exceptional. We believe that children reach their true potential when they feel safe, secure and valued as part of a supportive community.

We recognise that each child is an individual, with unique strengths and abilities. Through our guidance, it is the St. Anthony's School for Girls aim that our pupils will flourish academically and go on to affect change, making a positive contribution to society through their academic abilities and moral and spiritual beliefs. Through living out our aims and ethos, we hope to foster in each child a passion to learn, the motivation to achieve and the desire to excel.

Headteacher:

Donal Brennan

No Records Found

Sorry, no records were found. Please adjust your search criteria and try again.

Google Map Not Loaded

Sorry, unable to load Google Maps API.