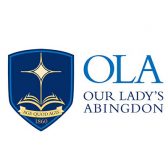 Our Lady's Abingdon School (OLA) is an independent co-educational day school in Abingdon-on-Thames with a well-deserved reputation for providing academic excellence.

Founded in 1860 by the Sisters of Mercy, OLA has been a beacon of Oxfordshire education ever since. OLA is a small, co-educational, independent day school for pupils aged 7 to 18, offering a highly successful, fun and innovative learning experience within a happy and friendly community. This leads our pupils to achieve some exceptional academic results, guided as they are throughout their time at the school by our caring and dedicated teachers.

The Lower School, Senior School and Sixth Form are located on a single site with adjacent sports playing field, within easy walking distance of Abingdon town centre.

What makes OLA different from other independent schools?

OLA is a small school with a friendly culture which provides many opportunities for children to represent the school in sport, music, drama and more activities which build confidence.
Class sizes are small providing more personalised tuition which delivers higher individual academic growth.
OLA pastoral care is highly praised by parents. The school actively supports the growth and development of every child.
The school focuses on high personal values driven by its Catholic Christian ethos which enables children to increase in confidence, integrity and compassion.

Headteacher:

Daniel Gibbons

No Records Found

Sorry, no records were found. Please adjust your search criteria and try again.

Google Map Not Loaded

Sorry, unable to load Google Maps API.