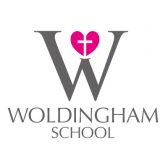 Woldingham is a leading boarding and day school for girls aged 11-18 set in 700 acres of the most beautiful Surrey countryside. Woldingham provides an inspiring place for students to become confident, compassionate and courageous young women. It's a place where students learn to 'write your own story' through excellent teaching, boundless opportunities and first-rate pastoral care.

Despite Woldingham's rural and peaceful location the school is remarkably easy to get to. London is just 30 minutes away by train and Woldingham is only 30 minutes from Gatwick and 45 minutes from Heathrow airports.

Celebrating its 180th anniversary in December 2022, Woldingham is one of the UK's oldest girls' schools and is proud to be a pioneer of women's education. Its supportive and stimulating single-sex environment enables students to become authors of their own life story, growing into independent women who make a positive contribution to the world.

Woldingham is a Sacred Heart Catholic school, warmly welcoming students of all faiths and none.

Headteacher:

Dr James Whitehead

Residency:

Day
Weekly Boarding
Full Boarding

Diocese:

Arundel and Brighton

No Records Found

Sorry, no records were found. Please adjust your search criteria and try again.

Google Map Not Loaded

Sorry, unable to load Google Maps API.