A super, smart team of fast thinking pupils from St Pius X Catholic Preparatory School in Preston have been crowned the smartest school in Britain, when they won the new CBBC quiz show – "Top Class".
This exciting new CBBC programme has been aired throughout September and is a fast-paced, competitive knock-out series, which pits schools from the length and breadth of the U.K against each other as they answer questions designed to test them to their limits.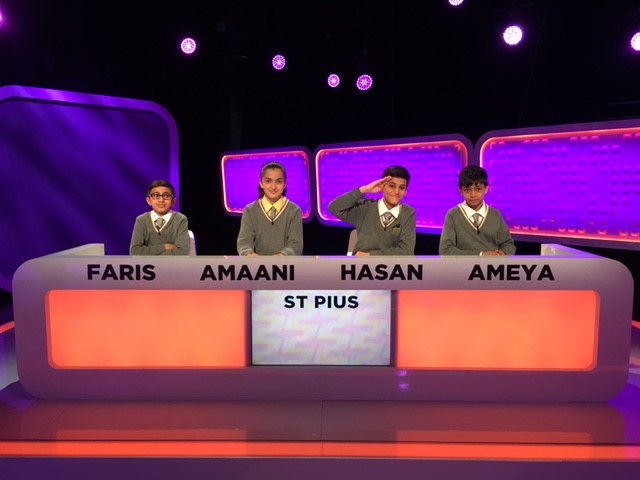 The four children representing St Pius were amongst just 16 teams from around the UK who were chosen to take part in the new quiz show. Show by show, they are whittled down until only one remained and was crowned the smartest school in Britain.
Hosted by Scottish Comedian, Susan Calman, children competed against each other in a series of challenging and fun rounds, which covered a wide range of subjects, where their general knowledge is tested to the extremes. Each round included questions taken from the National Curriculum Key Stage 2, other rounds involved questions on news topics from around the world. The children also had the opportunity to impress during their pet subject round, whilst their class teachers felt the pressure answering questions on pop culture. Year 6 class teacher, Mrs Davies took the hot spot and answered questions such as; "What does TBH mean?"
Susan Calman says: "I had so much fun testing these fabulously talented kids; they constantly amazed me with their determination, competitiveness and all-round cleverness! I learned more from them than they did from me!"
St Pius X Head Teacher Bridgeen Banks said: "We're absolutely thrilled. The children demonstrated excellent sportsmanship,
developing their confidence, team building skills and general knowledge. All the schools responded brilliantly to a highly pressurised situation. The show engendered a real interest in general knowledge right across the country. Congratulations and hats off to all the children that took part."
If you missed it, you can watch Top Class on CBBC iplayer.