Princethorpe College is delighted and proud that its Head Girl and Upper Sixth Form student, Miriam Isaacs, has won the national finals of the Catenian Public Speaking Competition for Young People from Catholic schools.
The competition took place last weekend, Sunday 10 September, at the Manchester Conference Centre, and Miriam was one of 16 regional winners who travelled from all over the country to take part in this prestigious event.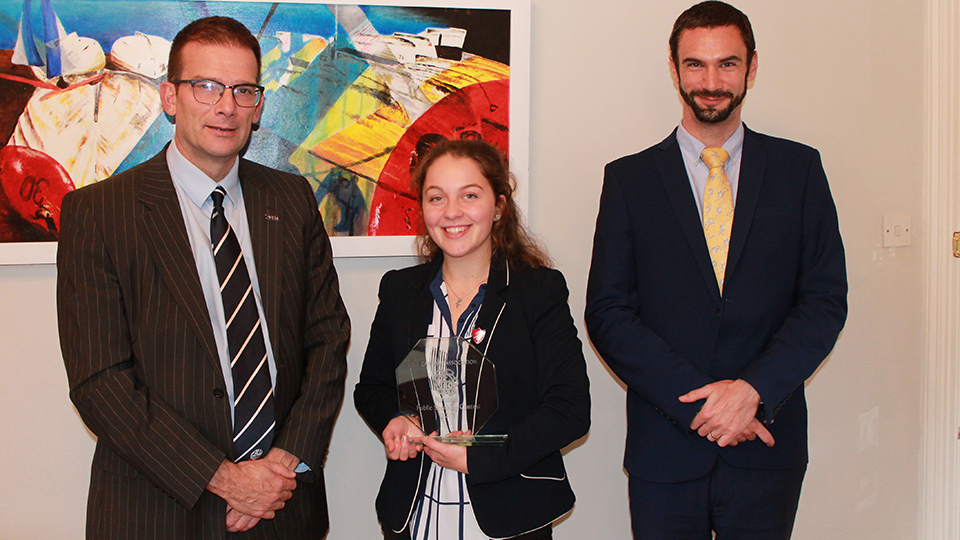 Her win is an amazing achievement, standards were high and she was up against tough competition, but the judges stressed that it was a unanimous decision. Miriam gave a four-minute presentation on the topic of 'Should the law should always be obeyed?' – or as per Miriam's speech, perhaps not always obeyed!
Chris Kerrigan, Head of English, who has been working with Miriam developing her public speaking skills, said, "I knew Miriam had acquitted herself well, but when you've heard the speech so often, it is difficult to gauge the impact on fresh listeners so we were delighted when they announced the result. It was well received by the audience too as so many people came up to congratulate her afterwards. All the competitors gave incredible performances so Miriam's victory is something that we are really proud of."
17-year-old Miriam, who is studying A-levels in History, French and English Literature and Language commented, "I felt very privileged to be able to take part in this competition at a national level and talking about the law and justice reminded me how lucky we are to be able to speak our mind in public. And of course, winning was the icing on the cake!"
Competitors were marked by the judges, Wendy Sutcliffe, Lord Alton of Liverpool and the Bishop of Salford, Reverend John Arnold, on a variety of criteria from content, delivery, elocution and appearance. Points were deducted for excessive use of notes and over or under running.
Ed Hester, Headmaster, said, "This is absolutely super news, the College has won the regional rounds before, but this is the first time we have had a national winner. It is fantastic that Princethorpe students have the opportunity and confidence to take part in such a prestigious competition as public speaking is such a useful skill for later life."
The Catenian Association is an international body of Catholic laymen who meet monthly in local units called Circles. Their Public Speaking Competition is run annually and is open to all catholic schools.
Photo: left to right – Ed Hester, Headmaster, Miriam Isaacs, Head Girl, with her award and Ben Collie, Head of Sixth Form