Following great success across A Level subjects earlier this month, CISC member schools are celebrating once again as students collected their GCSE results last week. Our congratulations to all of the students on their many achievements and thanks to the staff who have taught, encouraged and supported them throughout.
The Laurels School in Clapham was delighted to announce the very first set of GCSE results for the school which opened in 2013.
Mrs Linda Sanders, Headmistress of the girls' school in Clapham was very proud and happy for all the pupils who sat their GCSE and A/AS examinations this summer, which resulted in 58% of all GCSE entries achieving levels 9 to 7 or A*/A​.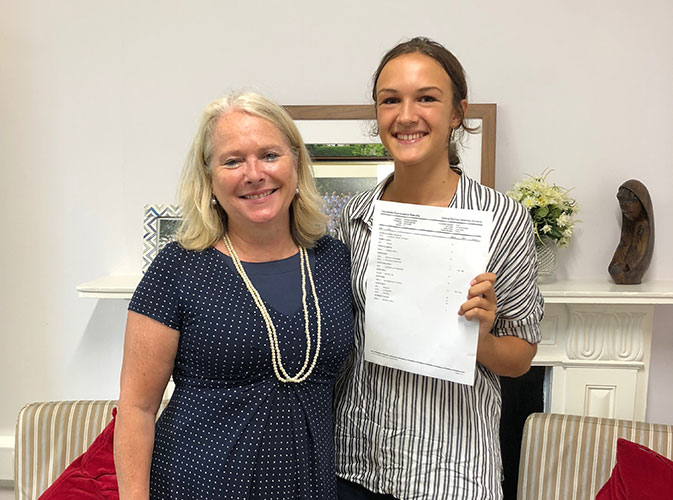 Headmistress, Mrs Linda Sanders with Helena Newman-Sanders
They have all worked very hard, together with the support of their families and staff to gain these outstanding results.
A very special mention was made for Helena Newman-Sanders who gained an astonishing result of all 9's and A*'s across the board in her 12 GCSE subjects.
The Towers girls once again achieved outstanding GCSE success with 99% of their results graded between 4 and 9, with a hugely impressive 45% graded at 7, 8 and 9.
Every single girl did herself proud with the following particular outstanding successes; Francesca Blondell secured 8 GCESs, 6 at grade 9, 1 at grade 8, 1 at grade 7 as well as an A grade in Additional Mathematics. Jemima Coleman achieved 9 GCSEs, 5 at grade 9, 3 at grade 8, and 1 at grade 7 along with a B in Additional Mathematics. Georgia Howarth obtained 9 GCSEs, 1 at grade 9, 4 at grade 8 and 4 at grade 7.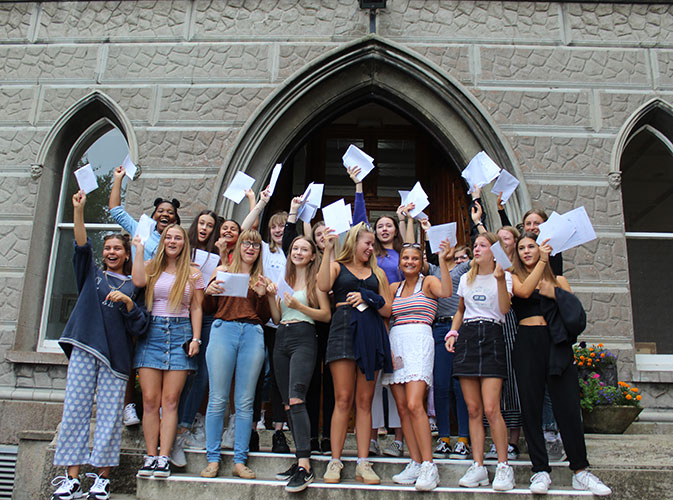 99% of GCSE results at The Towers were graded 4-9, with a hugely impressive 45% graded 7-9
"Warmest congratulations to all of our GCSE girls and hard-working staff, I am immensely proud of all of them." said Headmistress, Mrs Clare Trelfa.
Kilgraston School in Perthshire is absolutely thrilled to have achieved well above the national average with the number of leavers' going on to study STEM subjects at undergraduate level. The national average for female students graduating from STEM subjects in the UK is under 25%: they have confirmed places for 66% of Upper Sixth leavers going on to study STEM undergraduate courses at universities across the UK. This represents a 23% increase on last year when they had 43% entering undergraduate STEM courses.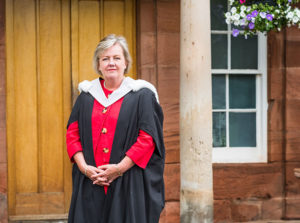 Commenting on the success, Head of Kilgraston, Mrs Dorothy MacGinty, said: "What is, I think, most remarkable about all girls at Kilgraston is that they will embark upon their chosen courses with many other skills and talents. They are likely to have studied another language, a humanitarian subject, a creative subject and developed the inherent skills of those subjects along the way. As a non-selective school, we are equally proud of our girls who have achieved their absolute potential and will be awarded with a creditable set of results."
Mrs MacGinty continued: "As a non-selective school, we are equally proud of our girls who have achieved their absolute potential and will be awarded with a creditable set of results. Kilgraston is fully committed to the Scottish Education examination system which gives pupils a breadth of choice in terms of subjects and the flexibility to change courses after their Lower Sixth year. Scientists can also study a language or history. Many of our Upper Sixth girls have made the most of this opportunity and have honed their subject choices and exam success to the requirements of their choice of undergraduate courses. Very well done to all the girls, staff, parents and guardians who work together to make these results so successful. I'm very proud!"
From a cohort of 154 pupils at Princethorpe College 43% of all entries were graded the coveted new 9, 8 or 7 grades (A* or A grades) and 39 of its Year 11 pupils achieved eight or more 9, 8, 7 or A* or A grades. The results come after the college also celebrated its best ever set of A Level results the week before.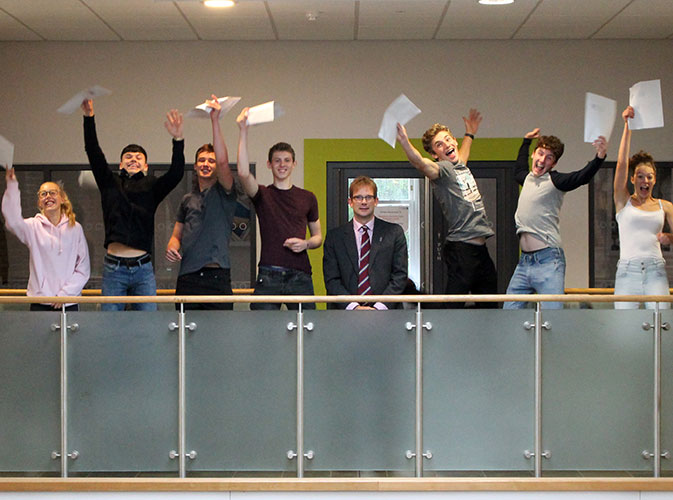 Princethorpe pupils celebrate their GCSEs with Headmaster, Ed Hester
Princethorpe pupils performed well in all the core subjects but the College is again delighted to receive its best ever English results with this year 64% of pupils achieving 9, 8 or 7 grades. Overall 92% of the grades pupils received were A*-C or 9-4 grades.
Given the rarity of the new 9 grade, and the new more demanding GCSE courses, Princethorpe's pupils have really excelled themselves: the College also had 11 pupils achieve a grade 9 in Art and its Scientists secured no less than 41 grade 9s.
Headmaster, Ed Hester said, "I would like to congratulate all of our Year 11 pupils. I am delighted with the excellent results they have achieved across the board; it is a privilege to be amongst so many happy pupils this morning and marvellous to be able to celebrate such success. We are of course delighted with the exceptionally high number of top grades but are proud of all our pupils who have worked hard and done their very best. Whilst their results are important, this year group have also demonstrated many fine qualities worth celebrating, such as kindness, respect, determination and friendship."
He continued, "All credit goes to our pupils and staff for their commitment and hard work. The College goes from strength to strength and we look forward to welcoming the vast majority of this cohort back into our successful Sixth Form for the next stage of their education."
A record 55% of grades achieved by students at New Hall School, Chelmsford, were at A*/A or 7+, with 14% of grades awarded a 9, making it their best-ever GCSE results. One third of grades were awarded A* or 8+, which is a record for New Hall. Following last week's 50 A Level modules given a perfect 100% score, once again many GCSE modules were awarded 100%.
Principal, Katherine Jeffrey, said: "We are delighted to share our students' fantastic GCSE results. The outstanding achievements are testament to the 'diamond model' of education, in which boys and girls are taught separately from the ages of 11-16. The structure sees our results buck the national trend of girls outperforming boys at GCSE level; at New Hall our top performers are equally balanced between boys and girls."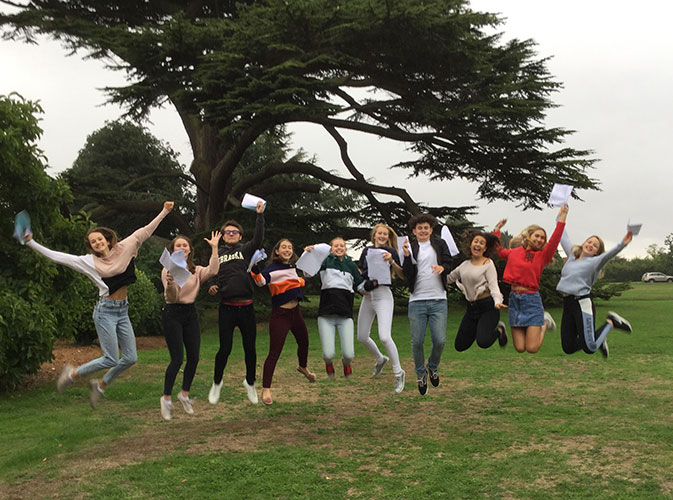 Record 86% of grades A*-B or equivalent
Head of Girls' & Boys' Divisions, Suzanna Minnis, said: "These are fantastic results that we are celebrating today with our students and their families. The hard work and persistence of students and staff has clearly paid off, with a record one quarter of Year 11 achieving at least nine straight A*/A or 7+ grades. The students should be extremely proud of themselves. We are confident that they have received the best possible preparation to continue their studies in the Sixth Form."
New Hall Preparatory Division is also celebrating 88% of grades at A*/A for sixteen 11-year olds who achieved Level 1 GCSE in their Academic Projects based on their Politics course. 100% gained grades A*-B. Mr Moulton, Head of Preparatory Division, said: "It is a joy to celebrate the success of our pupils, who should be very proud for achieving such outstanding results in a Level 1 GCSE Project 5 years early. This is the youngest cohort nationally. We are delighted to be able to offer this unique course, which offers our pupils exposure to the world of politics and current affairs early in their school career."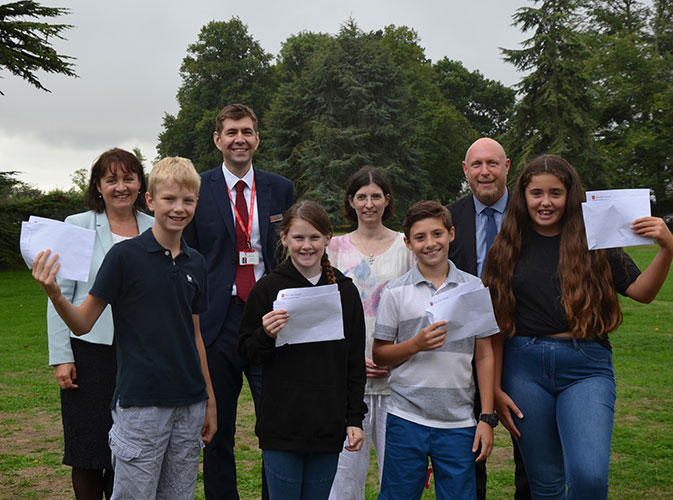 16 New Hall 11-year-olds studied politics and achieved a Level 1 GCSE Project 5 years early, with 88% of grades awarded A*/A
The Marist School, Sunninghill received excellent results in the light of the newly reformed GCSEs with 54% gaining 9 – 7/ A* – A grades and 99% of girls achieving 9 – 4/A* – C grades.
Mr Karl McCloskey, Principal of The Marist School said, "Our girls have once again excelled and improved on our results from last year despite the national outlook, which predicted lower levels of attainment in the wake of the higher levels of rigour and challenge. We had strong faith in the hard work and motivation of our girls and had no doubt about their resilience, aptitude and ability to succeed in what was anticipated to be a tougher year."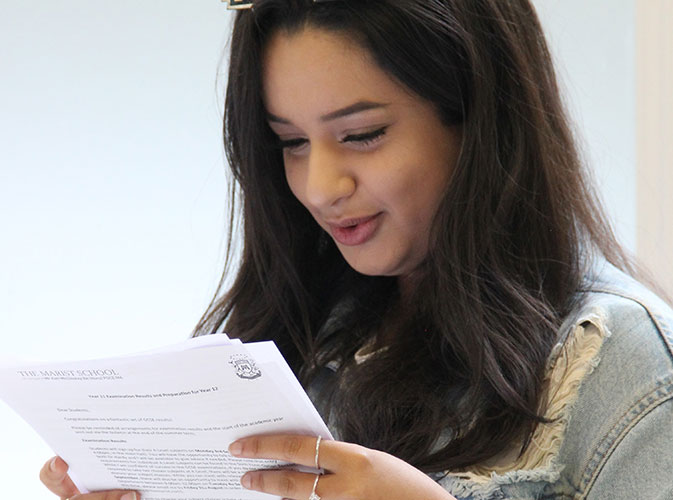 Opening GCSE results at The Marist
He added, "With 60% of the Further Maths GCSE cohort achieving A* – A grades and 45% achieving 9 – 7 in the Maths GCSE, the notion that high attainment in maths is the preserve of boys is strongly dispelled by the mathematical achievement of our Marist girls."
Further highlights of the Marist academic year include 15% of students achieving all grades 9 – 7 / A* – A and 100% achieving five 9 – 4 grade GCSEs. In addition, the English department facilitated outstanding results with 91% of students receiving 9 – 6 grades across English Language and Literature. Another subject of notable success is Religious Studies where three-quarters of the year group secured 9 – 7 grades with 25% awarded a grade 9."
Almost half of all entries at Mayfield School were awarded 9-8 or A* equivalent, recognising the very best performing students. 70% of entries were graded 9-7 or A*/A equivalent and 98% 9-4 or A*/C equivalent.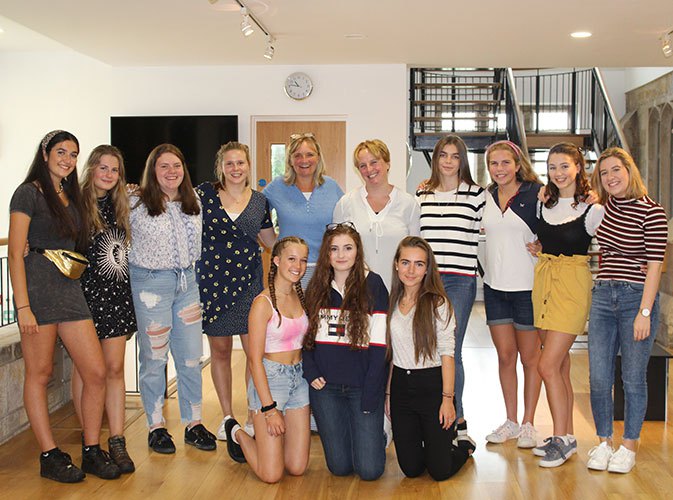 Girls celebrating with Mrs Jodi Stone – Head of Middle School and Miss Antonia Beary – Headmistress
Almost 30% of Mayfield girls were awarded 9-7 or A*/A equivalent in all their subjects and over one third achieved 9-7 in ten or more subjects, an outstanding result for a school with a broad academic intake in a more challenging examination environment.
Mayfield is proud of its reputation for unlocking and developing the potential in each of its pupils and the girls have achieved top results across the spectrum of disciplines. In Biology, Chemistry and Physics, 82% of entries were awarded 9-7 (A*/A equivalent); in the creative and performing arts almost 70% achieved a 9-7 grade and in Maths and Further Maths, almost two thirds of entries were graded 9-7. An impressive 35% of pupils achieved the top 9 grade in Religious Studies with over three quarters awarded 9-7.
Against a backdrop of fewer pupils in the UK studying languages, Mayfield girls demonstrated their linguistic talents, with 95% of all French entries and 94% of all Spanish entries awarded 9-7. The School provides a wide range of language options to pupils at GCSE, with Latin, Greek, German, Chinese and Japanese also represented in this year's results.
Headmistress, Antonia Beary, comments: "At a time of uncertainty and often unhelpful media speculation about examinations results, it is reassuring to see that at Mayfield it is very much business as usual, with impressive results across the board. Mayfield girls continue to lead the way with their commitment, hard work and enthusiasm and I am extremely proud of their well-deserved achievements.
As ever, I am grateful to our inspiring and devoted team of academic and support staff who enthuse, encourage and support the girls, thereby helping them to discover and make the most of their talents."
The Oratory School were delighted that 46% of grades in the A*-A/9-7 category and 86% at C/4 grade or higher. Both figures represent significant rises on last year with a number of individual successes across Years 10 and 11.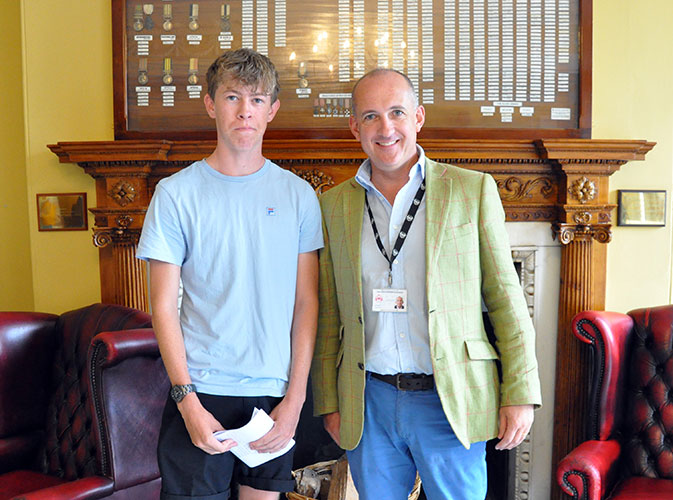 The Oratory School's Harry Page secured three 9s, one A*, four 8s, one A and one 7
The Head Master, Mr Joseph Smith, who was present to offer his congratulations to boys and parents said: "Like most schools and candidates, I think, there was a certain amount of apprehension about these results, the new specifications and 9-1 grading system representing something of a leap into the unknown. Therefore we are all delighted that our boys have performed so well, with 46% of exams graded A*-A/9-7. They, and their teachers, should be very proud of their achievements. Throughout the year and the exam period, teachers put on a huge number of extra sessions, and worked tirelessly to help their students achieve their target grades, and the boys bought into this programme. For a school with a broad intake, academically speaking, and a focus on developing young people in a much broader and deeper sense than exam results alone can demonstrate, we are hugely pleased with and proud of these results".
Girls at Woldingham School excelled in the new qualifications for the second year running. Mirroring their A Level counterparts, Woldingham's GCSE cohort have shattered gender stereotypes with first-class STEM results: 67% of the GCSE Sciences were at the top A* grade. Woldingham pupils similarly defied the national downwards trend in languages which proved popular as options and saw outstanding results with over 80 of the highest grades and an average of 40% at grade 9.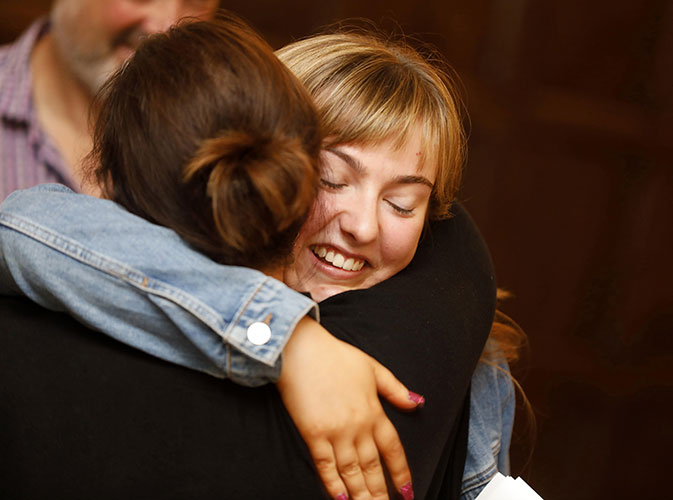 Woldingham girls excel at new GCSEs
In total, Woldingham girls notched up 647 A*-A and 9-7 grades. Over half of the year group achieved seven or more A*-A/9-7 grades.
Headmistress, Mrs Alex Hutchinson, said: "Woldingham students have been utterly unfazed by the new GCSE grading system; they have embraced the curriculum change and achieved yet another first-rate set of GCSE results in qualifications designed to be more challenging than in the previous system. Our Year 11 girls typified the Woldingham ethos – community-minded, supportive and ambitious, whilst at the same time ebullient and tremendous fun to be around – I am immensely proud of them.
I am also hugely grateful for the commitment, knowledge and sheer hard work our teachers have put into making the change to reformed GCSEs so successful. The last two years have seen unprecedented pace of change across the public examination system and these superb results are testament to our staff's expertise and unfailing dedication."
Head of Year 11, Mrs Rachel Whitton, commented: "Our GCSE students were such a strong community and their support for each other alongside their work ethic were a powerful combination. I wish them every success in their Sixth Form studies."
Pupils collecting their GCSE results at Leweston School achieved three times the national average for the new grade 9s, with a pass rate of 12% compared to 4% nationally.
30% of all examinations taken achieved grades 9 or 8 (equivalent to A** and A*) with 82% graded at 9 to 5 (A** to B) and, whilst 66.9% of entries across the country scored 4 and above this figure was 94.4% at Leweston.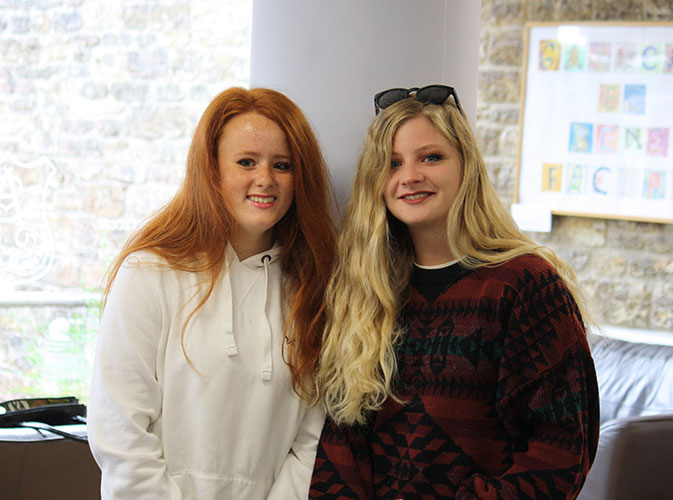 Leweston School have achieved three times the national average for the new grade 9s
Kate Reynolds, Head of Leweston, congratulated the students on their achievements: "We are delighted with this year's GCSE results. This is the first year that the majority of subjects appear in the new numerical grading system and approximately 90% of entries were in the new format, with more challenging content and an emphasis on final exams.
Leweston offered 21 different subjects at GCSE this year and 8 different departments achieved the equivalent of 100% A*-B. These excellent results are thanks to our students and staff working so closely together to master the new specifications. I am particularly thrilled that we have so many students choosing to complete their studies in the Sixth Form at Leweston and I look forward to seeing what they achieve over the next two years."
Pupils at Farnborough Hill were elated as they opened their outstanding GCSE results: 61% of grades were 9 – 7, with 82% 9 – 6. An astonishing 68% girls achieved a 9, 8 or 7 in a least half of their subjects.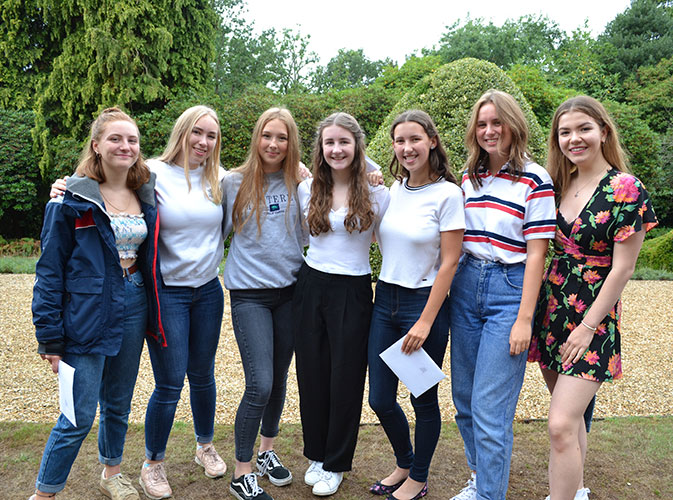 61% of all grades secured by Farnborough Hill students were at the highly coveted 9-7
The most frequently achieved grade at Farnborough Hill was a 9, at a count of 219 in total – this is despite government warnings that the top grade would be extremely hard to achieve. In all, 43% were grades 9 – 8, the equivalent of the old A*, with 21% of girls gaining at least nine 9 or 8 grades, while 52% achieved at least one 9.
Mrs Alexandra Neil, Head, was thrilled, saying: 'It is never easy being the first cohort to undertake something new; for the girls of Farnborough Hill to not only rise to the challenge of more rigorous GCSE exams, but also earn grades at this outstanding level is exceptional. I am extremely proud of all the girls and our consistently high pass rate, this year's being 99%. The results are proof that hard work and dedication will pay off. The smiles and warmth here today and the whole-hearted joy amongst pupils and staff as we celebrate these excellent results is wonderful and reinforces the culture of Farnborough Hill as we rejoice in each girl's personal success.'