The work of a Kilgraston School pupil has been awarded a commendation for being among the top 85 places, out of 11,000 entries, in an international poetry competition.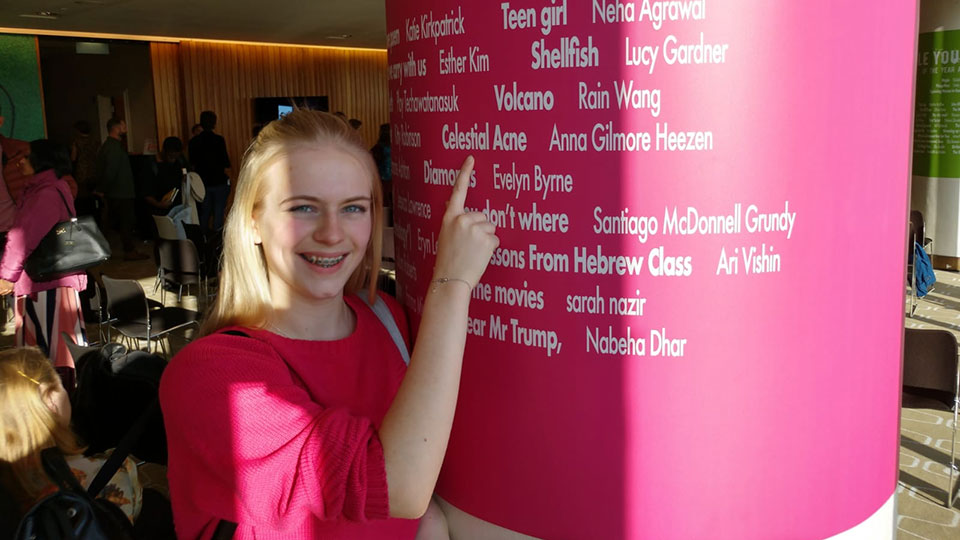 The Foyle Young Poets of the Year Award 2019 has recognised Perthshire girl Anna Gilmore-Heezen's work 'Celestial Acne' – which tackled the issue of body image against the backdrop of astrological characters – as a winner.
Judge Jackie Kay, the national poet laureate of Scotland (the Scots Makar), presented the young writer with her achievement during a smart ceremony in London's Southbank Centre on 2 October. "Meeting such an icon of the poetry-world was such a huge honour," said Anna, "having studied her work for an exam it was surreal to meet the actual author."
A keen poet from a young age, Anna has entered other competitions, most recently receiving a commendation for the William Soutar Prize for her poem 'Autumntide'. As president of the Kilgraston Poetry Society Anna is a prolific poet who voraciously reads other lyricists; it is her ambition is to be a published poet, while going on to study languages at university. Frequently inspired by the natural world – Anna is also an accomplished artist – for the Foyle Young Poets competition she won with a piece of work that marked a real departure from her characteristic style and content, which usually takes a more anthropomorphic approach. "The planets' surface reminded me of a teenage complexion and I wanted to celebrate that imperfection, looking at it through a prism of positivity," she said.
Anna's grandfather made her rethink her perceptions of the 'dermatology' of the planets and see them in a whole new light: "His wisdom reassured me during a moment of teenage doubt about my appearance," said Anna, "his belief in me gave me renewed confidence that anyone can be a giant of the universe."
Anna discussed her poem with Jackie Kay, who vividly remembered judging the entry: "Jackie immediately remembered the name of my poem and its content as being truly unique. I was so flattered that out of all the thousands of entries mine stuck in her head."
The event proved a rich-source of networking for Anna who has now set-up a 'Poet's Forum' on which several of the young entrants now share their work and ideas.
The winning entries were selected from over 6,000 poets and over 11,000 poems by judges Raymond Antrobus and Jackie Kay. Writers aged 11-17, from 76 different countries and as far afield as Vietnam, Romania, Mexico and Japan, as well as the four corners of the UK submitted their work.
Celestial Acne – by Anna Gilmore-Heezen
Once, when I
was fresh fifteen,
I was laying on the sofa upside
down, absent mindedly touching my face,
While Grandpa read the newspapers across the room,
muttering about the anniversary for the moon landing
and how he had
watched it back in his day on TV
and how times had changed
etc etc,
When:
my roving fingers discovered a life
form, an
alien presence
In the crescent of my
outer-left-nostril.
With a wail I
informed the house (and possibly the whole street)
That I had a
new spot,
my fifth of the week!
My fifth of the week!
Which resulted in Granda lowering his newspaper a
fraction.
"Where?" He asked, squinting through his half-moon glasses.
I moaned, and indicated,
despairing.
"So? You're not the only one with skin afflictions," He said.
Seeing my venomous look he
quickly hedged:
"I mean, think about the moon! Talk about a pizza face!"
"The moon?" I shrieked, incredulous.
"Yes! Haven't you ever noticed how many craters there are on his face?"
I gave him a dubious eye roll (my fresh- fifteen speciality).
"Think of Mars' rosacea!" he persisted,
"The sun's psoriasis!"
"Venus's eczema!"
"Saturn's ringworm!"
"Jupiter's moles!!!"
He paused,
winded.
I eyed him, curious to see
where he was going with
this outburst.
"So you shouldn't feel bad
about your skin. Think
of those planets! They didn't let their celestial dermatology problems
stop them. They went
on to be giants in the universe.
So will you."
Seeing my confused look, he drove his point home with-
"You're not alone, is all I'm saying."
Then,
"Have you seen my slippers?"
I smiled and shook my head before
laying back down, feeling
strangely reassured.
Later I went to find
my telescope.