On Thursday 7 November, as part of Crackley Hall's Vocations Week, pupils were surprised and delighted to have the opportunity to meet their very own school House Saints.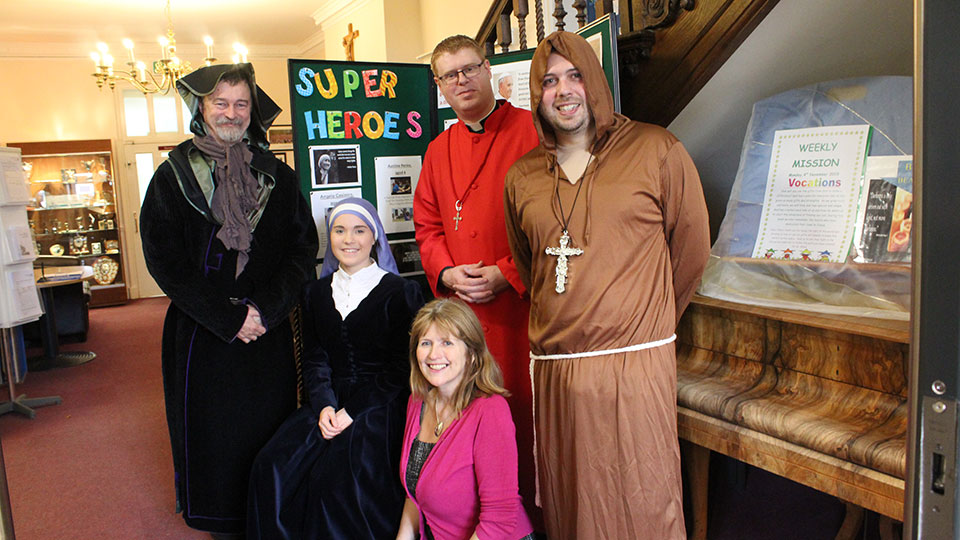 Visiting speakers: Mary Lomas, a former Crackley Hall pupil, Alan Chalmers, parent to Thomas in Junior 5, David Harris, Diocesan Primary RE Adviser, and Deacon Owen Gresty took on the roles of St Therese of Lisieux, St Joseph, St Francis of Assisi and St John Henry Newman respectively. The 'Saints Alive' speakers played the part of each saint, dressing up as them, and speaking to pupils about their life and their vocation. They talked about the skills and attributes of each Saint, such as listening, kindness, humbleness, patience and determination, all skills we encourage the children to embrace, and about the service each Saint gave.
The 'Saints Alive' sessions were organised by RE Co-ordinator, Suzanne Jackson-Mayne, who commented, "Our visiting Saints were wonderfully interactive and really inspirational, it was marvellous to see the children so engaged. They really enjoyed all the different sessions and have learned so much about their House Saint. A huge thank you to all our visiting Saints you were one of the highlights of our Vocations Week."
---
CISC are always delighted to share news, articles and updates from CISC member schools so please add info@catholicindependentschools.com to your press release list.