Laleham Lea School in Purley has unveiled a beautiful mosaic depicting life at the school created by its Students.
Supported by funding from The Arts' Society – Croydon Area, the colourful mosaic is located at the Student Entrance to the school and was designed and created by Students from Year 1 to Year 6.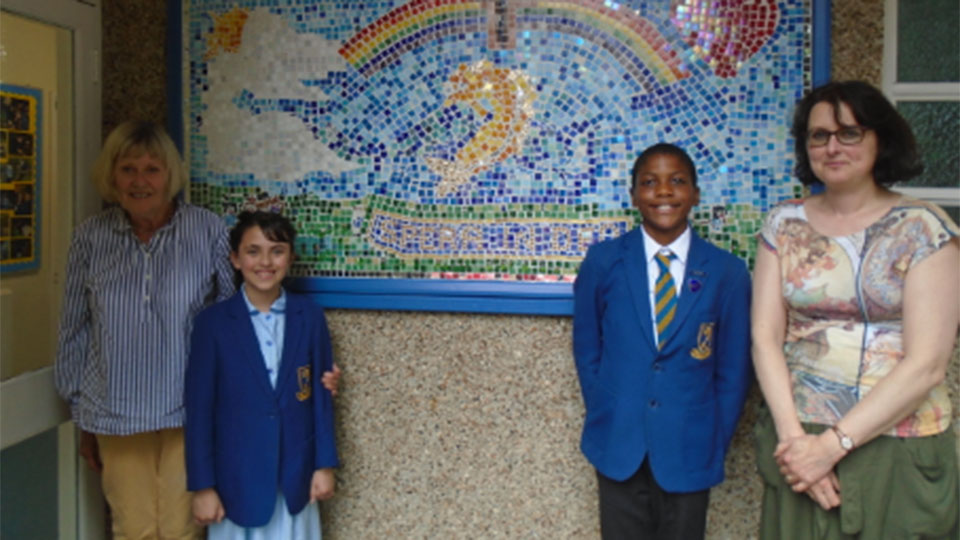 Laleham Lea School was approached by The Arts' Society – Croydon Area, who support the Arts in local schools by making grants available for the children to be creative, to work on the project and the striking mosaic was many months in the making.
Ms Barry, Head teacher at Laleham Lea said: "We are delighted with the mosaic which our Students worked very hard to create in their Art lessons and Art Club.
"This stunning piece of art will welcome families to our school for many years to come. Our thanks go to The Arts' Society – Croydon Area and to Mrs De Cintra our Art Teacher who led the project and helped the Students to create this masterpiece."
Janice Brunger from The Arts' Society – Croydon Area said: "I visited the school at the beginning of the summer term and on a number of occasions during the term to see how the project was progressing.
"I was always met with smiling children's faces who seemed to be enjoying cutting pieces of mosaic, gluing the mosaic, sticking them on to the board and gradually seeing their design fulfilled. At the end of the term I was pleased to see at the unveiling of the finished project what I thought was a very good piece of work.
"I must congratulate the Art Teacher, Alicia de Cintra, for the amount of time she spent on the initial design, ordering the materials to be used, supervision of the children involved in the project and adding the finishing touches to the final work.
"I hope that the mosaic will be seen by people entering the school and encourage others to take up Art. Art, in its many forms, is something that can be appreciated by young or old, but if it is not seen it cannot be appreciated."
---
CISC are always delighted to share news, articles and updates from CISC member schools so please add info@catholicindependentschools.com to your press release list.